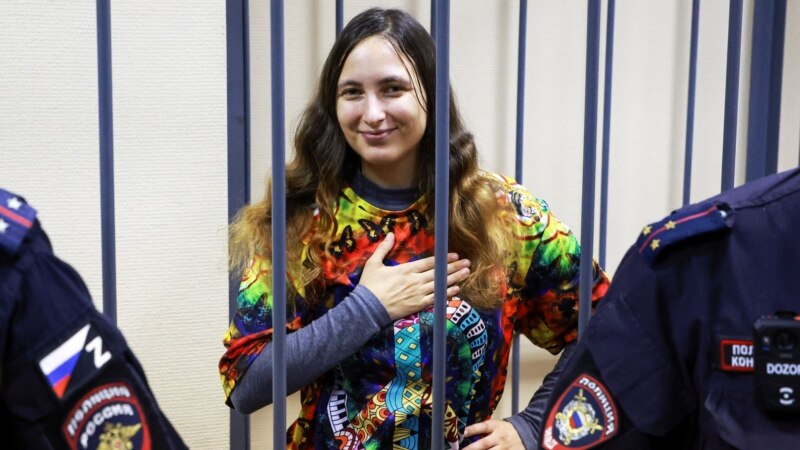 On November 16, the artist Sasha Skochylenko gave her last word at the trial in the Vasileostrovsky District Court of St. Petersburg. She is accused of the so-called war fakes after she changed five price tags in the "Perekrestok" store for slips of paper with data on the number of dead in Ukraine and calls to stop the war.
"My case is so strange and funny that the employees of SIZO-5 open their eyes wide and exclaim: "Are we really being imprisoned for this now?"…My case is that my investigator resigned before it was closed. In a personal conversation with as my lawyer, he said: "I did not come to the Investigative Committee to deal with cases like Sasha Skochylenko's", – said the accused in the last word. The full text of the speech is published, in particular, by Mediazon.
Among other things, the artist expresses the opinion that even the public prosecutor "deep down" does not want to participate in the trial against her. "It seems to me that he came to the prosecutor's office in order to imprison real criminals and villains – murderers, rapists, seducers of minors. But everything turned out to be completely different: it is necessary to imprison those who need to be imprisoned – and this is the guarantee of advancement on the career ladder. This is the established system ", Skochylenko said.
On leaving the courtroom, the accused was met with applause that did not stop for several minutes, reports SOTA.
The judge announced that the announcement of Skochylenko's sentence will also take place on November 16, at 3 p.m. Moscow time.
The public prosecutor previously requested eight years of imprisonment for her. He called the qualification of the case correct, noted that the artist herself should be punished for "knowingly false messages", because "it is unacceptable to lie about the defenders of the Fatherland", quotes the words of the prosecutor of "Mediazon".
During the argument, the lawyers said that the prosecution could not prove the "falsity" of the messages, and the linguistic examination in the case did not meet the norms of expert activity. The defense side insists that the artist was driven by an "absolutely humane and inviolable" desire to stop the war.
33-year-old Sasha Skochylenko has been in a pre-trial detention center since April 2022.