the Blues sing the praises of Giroud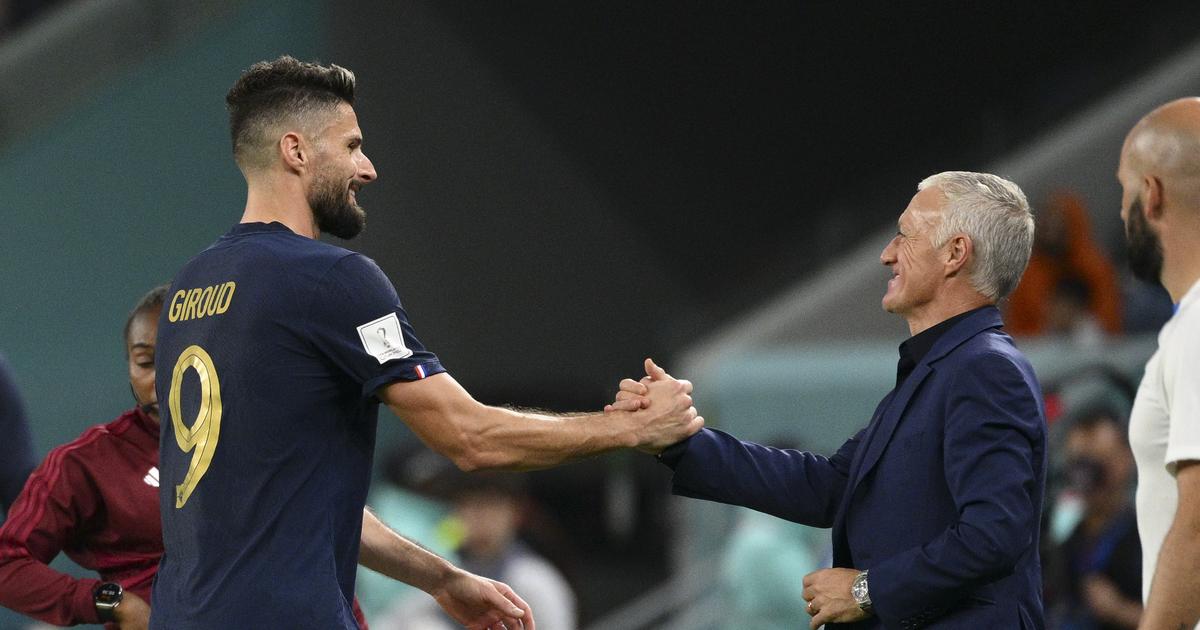 Several French players answered questions from the media in the mixed zone after the victory over Australia on Tuesday evening at the Al-Janoub stadium.
From our special envoys in Qatar
Adrien Rabiot (France midfielder, after the 4-1 win over Australia) "We were a little shaken at the start of the match but we immediately reacted well by scoring twice. There have been Lucas Hernandez's injury, which hurt us a bit. We got back into it. In the second half, it was good, we were able to manage. (on his match) It's going well, I'm happy, but I especially remember the work of the team, we showed a good face, we were very compact and we were not panicked after this goal . We all had a good game. Absences in the middle? We have very good players in the middle, Aurélien (Tchouameni), Yous (Fofana), Anto (Griezmann) who played a little lower, me, we have potential. We must not be underestimated, even if the absentees are very important. But we have the quality, we demonstrated it tonight. We managed this game well. We will have to continue but it is a good base. Any surprises to come in the World Cup? I don't know, but the draw between Denmark and Tunisia (0-0, in the other Group D match, editor's note), is good for us, it's good for the future. The objective is to win on Saturday (against Denmark) in order to qualify.
Hugo Lloris (goalkeeper and captain of the France team) : "The most important thing is to take the three points on an opening match, to win. In the content, there were a lot of interesting things. We started the match well but we took this goal a little against the course of the game. Above all, we lost Lucas Hernandez to injury. Despite this, the team remained focused, with a lot of control, and we gradually gained the upper hand thanks to our percussion force on the sides, our presence in front of goal, and we created important chances, we scored, we passed. The second period was pretty well controlled. Serene? It's never good to concede a goal, but there's still a lot of time when it happens at the start of the match… It's true that we could have rushed, not taken the time to build the actions . There has indeed been serenity and it is a good thing because we will need it. This is the first difficulty you encounter being down 1-0 and the team reacted well. We know it: in a competition like this, each time we are faced with difficulties, it will be time to raise the level together to get the upper hand on the opponent. (…)
Lucas Hernandez injury? Honestly… It's starting to do a lot!

Hugo Lloris
Antoine Griezmann had a lot of fun playing and making the team play. It's a bit of an unusual position, but he likes to touch the ball and he makes the effort with and without the ball. It's good, it was a good thing, especially on this kind of meeting where you know that you will have the ball and that you will have to use it well. That was the case tonight. It's good. (…) The team was well balanced. In the use of the ball, of course, Antoine is our technical leader. There was also this force of percussion on the sides and this presence in front of goal with Olivier Giroud. It's a whole and it's positive. Now we're going to savor it, it's the first match, the first victory, but we know that the next match will be on a much higher level. Olivier Giroud ? This is exceptional. Above all, he is an exemplary model because he never gave up. To be at the same height as Thierry Henry is just fantastic for him. What we want him to do now is to go ahead. It would be a good thing for him but especially for the France team. Lucas Hernández? Honestly… It's starting to do a lot! It's never pleasant to see a teammate leave the field in this way because we immediately felt that it was something serious. Despite this, the team stayed in the game. Often, when you lose a teammate and you know it's serious, it can get into people's minds. Theo came back super well too. Lucas, we know his importance in the team and especially in the matches where we need aggressiveness, his gnac. It's a new blow but we have to keep moving forward, look ahead and that should unite us even more.
Read alsoThe notes of the Blues against Australia: Mbappé as boss, Giroud in history
Dayot Upamecano (defender of the France team) "We are going to prepare well (for the next matches) and do everything to seek victory. We got off to a good start. We will fight to the end for qualification. Evening galley in sight at the time of the Australian goal and after the injury of Lucas Hernandez? No. Lucas is an important player. I'm crossing my fingers that it's nothing serious. I hope he's fine… I saw his face in the first half, that motivated me even more for the second. I hope he has nothing because he is an important player in the France team and at Bayern. Reference match in Blue? I had a very good match but I can't rest on that. There is still work to do, we will do everything to attack the second match well (Saturday against Denmark). With Ibou (Konaté), there is a very good understanding, we played almost four years together in Leipzig. The group lives well. Everything is going well and we will do everything to get the second victory.
This victory is also for Lucas because he is a warrior, a fighter and a great friend.

Benjamin Pavard
Benjamin Pavard (defender of the France team) : "It took us a long time to get going, we took this goal but we woke up, we didn't ask ourselves any questions, we played our football and we are very happy to have won this match. (…) We were sure of our qualities, we shouldn't ask ourselves too many questions. We didn't have a very good start to the game. We could have scored even more goals but it bodes well for the future. Olivier Giroud ? Respect. Being at the top level for many years, always responding, even when no one believed in it… He's there, he's scoring goals. He is generous to the team and very important. I'm very happy for him because we're very close, he's a great guy, I hope he will continue like this and break other records. The positioning of Antoine Griezmann? He played a very good match, he is a very intelligent player. He gives his all for the collective whatever his position. It's good, it's a position that suits him well. Lucas Hernandez injury? We were all very impressed. This victory is also for him because he is a warrior, a fighter and a great friend. It doesn't smell very good… But I hope it's not that bad. In any case, I will support him because he is a great player, a great friend and I am sad for him.
Comments collected in the mixed zone
World Cup: strong images of France-Australia