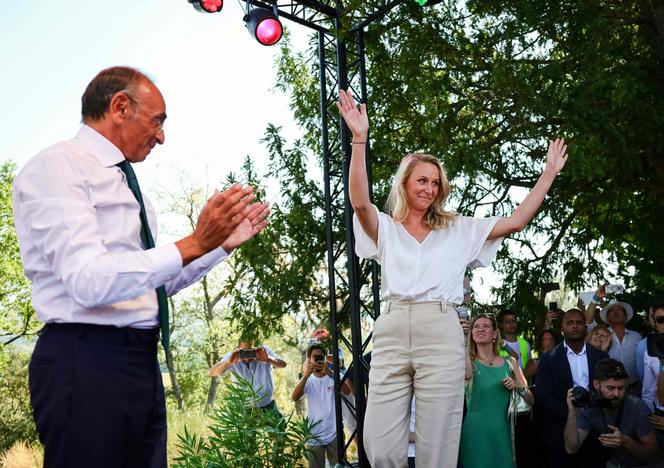 Francis is no longer quite their pope – and they are no longer afraid to say it out loud. A few days before the Pope's visit to Marseille, on September 22 and 23, and while a new flow of migrants landing on the Italian island of Lampedusa is relaunching European debates on the migration crisis, part of the far right French, who has certainly never appreciated the Argentine pope, is making a new music heard that breaks with the traditional legitimism of Catholics with regard to sovereign pontiffs.
It's not the announced presence at the pontifical m of the President of the Republic which upset those responsible for Reconquest!. In their eyes, there is no subject for controversy, as for the right, of which fifty-seven Republican senators (LR) tabled a bill on Monday September 18 to "consecrate the Judeo-Christian roots of France" in the first article of the Constitution. This initiative, a few days before the Pope's arrival, was driven by Senator LR Stéphane Le Rudulier (Bouches-du-Rhône), spokesperson for Bruno Retailleau, the president of the LR senators, who spoke Tuesday morning on France Inter "submergence of migrants" in Lampedusa.
"He's doing too much"
It is the presence of Pope Francis and his speech on migrants which bothers the most radical fringe of the far right. Marion Maréchal, Eric Zemmour and Stéphane Ravier even invoked the Bible or Christian authors to shoot their arrows. "I disagree with Pope Francis"declared on September 14 on BFM-TV the granddaughter of Jean-Marie Le Pen, future head of the Reconquest party list! in the European electionsby calling into question the qualities of " charity " of the sovereign pontiff. "I find that[il] doesn't have to play politics, He's doing too much", she added, she who displays her Catholic faith. " The Pope is only infallible on dogma, and in this case he has his prism as a South American who does not know the type of immigration that we know and who clearly does not understand what we are facing. »
"I learned from Christianity a very beautiful phrase from Saint Augustine, which is that we cannot do good to the point of evil", added Eric Zemmour on BFM-TV on Sunday – inventing in ping, according to several exegetes, a quote from the Roman philosopher and theologian. Jean-Marie Salamito, a specialist in the history of ancient Christianity, explained that he was unable to find this so-called formula. "misused under the name of Saint Augustine", "neither in French nor in Latin", nor even a similar idea: "The idea that one can do good and end up with evil seems to me neither Augustinian nor Christian", detailed at The cross this ociate member of the Institute of Augustinian Studies.
You have 44.68% of this article left to read. The rest is reserved for subscribers.