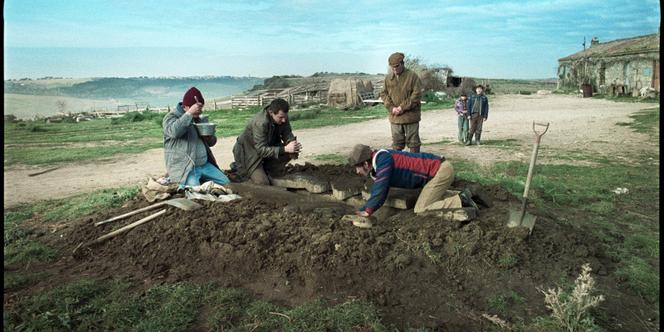 OFFICIAL SELECTION – COMPETITION
Happy as a festival-goer discovering The ChimeraofAlice RohrwacherItalian filmmaker born in 1981. Coming out of the screening of this gang and smuggling film, populated by grave robbers (raffle) Etruscans, we remember two or three things that make the experience prodigious: first of all the image, signed by the director of photography Hélène Louvart, the grain of the 35 mm film scrutinizing the Italian frescoes in a chiaroscuro, the Super 16 and 16 millimeters transporting the viewer into the tale. The narration then, which probes beyond the dialogues, experiments with a silent language and draws from the songs, interpreted by the actors, some insights into the life of Arthur (Josh O'Connor).
This one is a mysterious Englishman, thirty years old, who has the gift of detecting the "vacuum" underground, with its potential ancient galleries, filled with treasures (Etruscan vases, etc.). We discover him on the train, with an unappealing face, after a stay in prison. He arrives in his small town by the Tyrrhenian Sea and reluctantly reunites with his heist buddies, with whom he resumes his nocturnal activities. Profaning the sacred, these men take the risk of sinking several meters in the hope of finding a few nuggets among the bones. Reselling their loot to receivers, they thus escape a dull life of work, or so they hope.
With this film, the Tuscan director and screenwriter closes a trilogy in the form of a rural tale begun with her two previous feature films, which had already competed for the Palme d'Or – Wonders (2014) And Happy as Lazzaror (2018)which won the Screenplay Prize. The Chimera crosses full of reliefs, the romantic comedy, the excess, the melancholy of a bygone love. The first image of the film teaches us: a black screen, which suddenly lets in the light, imprints the face of a young woman, then drives it away like one extinguishes a candle.
fugitive plans
This absence of the loved one unrolls a common thread, literally and figuratively, to which Arthur clings to hold on. Half-bandit, half-ethnologist, the sensitive young man, as much fascinated by the souls of the past as by easy money, does not know what to do with this gift that fell to him from the sky.
Sometimes accelerating the image, shifting the viewer's gaze into fleeting shots, Alice Rohrwacher reconnects with the formal freedom of her first feature film, Corpo Celeste (2011)while weaving the threads of a gigantic antiques scam, where raffle risk dearly. The chimera is this dream that we try to reach without always succeeding in grasping it.
You have 45.43% of this article left to read. The following is for subscribers only.