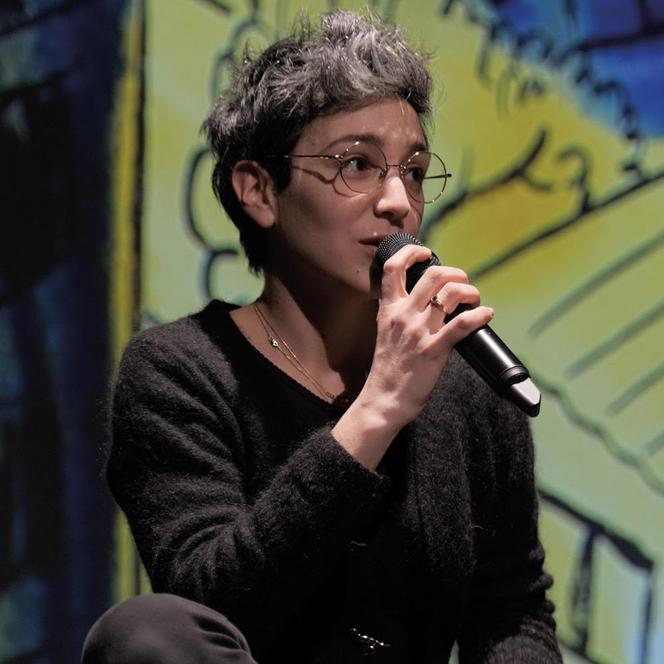 FRANCE CULTURE – SUNDAY, MAY 14 AT 8:00 P.M. – PODCAST
It is her first production since she obtained the approval of Radio France (specific to the "round house", it gives access to the function of director of radiophonic fictions). And it is successful. I have to say that Sabine Zovighian was well supported (by the director Laure Egoroff) and is not at his first attempt: his fictions are among the most awarded – let us mention in particular at Arte Radio From war to son (written by François Pérache) and Anne Bonny's Last Night (by Claire Richard).
In the beginning this time was the desire to work on the writing of David Lescot, which she finds particularly radiophonic: "David Lescot is a great music lover, author of often choral pieces where the words are put in score, and that touches me", explains Sabine Zovighian. But let's start again since in the beginning was Rumbling Glaciers, a play written and created in 2015 by David Lescot as world leaders gather in Paris to try to limit the emission of greenhouse gases and control global warming. It is then the COP21, the one called "last chance".
On this occasion, imagined David Lescot, the editor-in-chief of a major newspaper commissioned an article from a writer expressing his point of view on the event and on climate change in general. A writer who himself is experiencing another kind of disorder since his couple is falling apart. Combining, as often, documentary and intimate, forms and genres, David Lescot questioned the relationship between exterior and interior, convinced, he said in his note of intent, that "theater is made for that".
"Bridging" ten years
For Sabine Zovighian, the challenge was first to update this piece dating from 2015. Keeping what was relevant but " to fill in " the almost ten years even if in this case and it is – let us agree from the outset – depressing: nothing has changed. For this, she relied on archives that she worked skilfully. The director also and very well exploited THE Winter's Tale of Shakespeare, this sublime play on the seasons of the soul. She also wanted to change the nature of the love story imagined by David Lescot. So many changes approved by the author, she admits relieved.
Then, it was necessary to imagine multiple radio devices to make heard what is said here and which is essentially vital and yet often discussed in an anecdotal and worldly tone. Sabine Zovighian thus insisted on re-registering Jean Jouzel (thanks to whom the Intergovernmental Panel on Climate Change, the IPCC, won the Nobel Peace Prize in 2007), and groups Ambitronix and Manasonics. Finally, she took care of her distribution by entrusting the main role to Alexandre Steiger and by surrounding herself with what she calls her "cuddly actors" : Jeanne Piponnier and François Pérache, in particular.