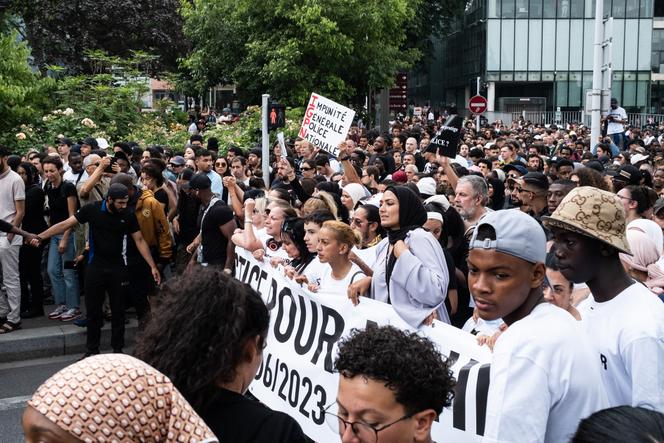 Several working-cl neighborhoods in France feared another night of unrest, Thursday June 29, two days after the death of a 17-year-old motorist, killed in Nanterre by a policeman who used his weapon while checking his vehicle.
While the elements of language initially distilled by police sources evoked a vehicle rushing towards two officers with the intention of hitting them, a video broadcast on social networks and authenticated by The world seems to prove that the vehicle driven by the teenager did not directly threaten the police officers. Since then, the Hauts-de-Seine prefecture and other cities in France have experienced two nights of intense tension.
Back, hour by hour, on the sequence of events.
From traffic control to police custody
The facts, as they were reported Thursday morning by the public prosecutor of Nanterre, Pascal Prache, were established thanks to video surveillance cameras, witness hearings and amateur videos broadcast in particular on social networks, as well as the statements of the police officers involved.
7:55 a.m., Tuesday, June 27. Two motorcyclists from the Hauts-de-Seine territorial traffic and road safety company spot a Mercedes Cl A, AMG model, registered with a Polish plate, which is traveling on a bus lane at high speed on Boulevard Jacques-Germain-Soufflot, towards Nanterre-University station.
Seeking to question the driver because of his behavior and his apparent young age, the two officials tried for the first time to control him by activating their sound and light warning devices, coming up to the height of the vehicle at the level of a red light in asking him to park. The vehicle restarts with the fire burning out. The police noted the presence on board of three individuals: the driver, a front penger and another in the right rear seat. Officials follow the Mercedes rue Pablo-Neruda, then rue des Trois-Fontanot and boulevard de Pesaro.
8:16 a.m. The police report their progress by radio on the airwaves of the police. During the chase, several traffic violations were observed, including crossing pedestrian crossings endangering a pedestrian and a cyclist. Boulevard de la Défense, the vehicle is stopped by a traffic jam due to a traffic light. Dismounting, the two bikers place themselves on the left side of the vehicle. They will specify during their hearings that they both took out their weapons and pointed them at the driver "to dissuade him from restarting by asking him to cut the ignition". The vehicle restarts and the police officer near the vehicle's fender shoots the driver once.
You have 72.67% of this article left to read. The following is for subscribers only.