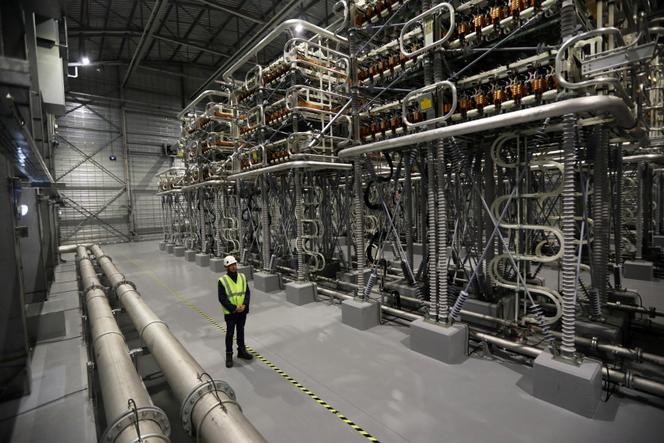 France should get through the winter period without reliving the tensions of winter 2022-2023 on its electricity supply, then threatened by the shutdown of numerous nuclear power plants. This is the optimistic forecast announced on Wednesday, November 8, by Electricity Transport Network (RTE). "The prospects for security of electricity supply during the winter of 2023-2024 are much more favorable than last yearindicates the network manager of 100,000 kilometers of high voltage lines. They reveal a low risk of imbalance between supply and demand. »
Ranked on a scale of 1 to 5, this risk is " very weak " in November (level 1) and " weak " the following months (level 2). This perspective is important, because it is scrutinized by the electricity markets, where futures prices in Europe are formed. And in 2022, they made the failures of the French nuclear fleet pay a high price: spot prices reached 225 euros per megawatt hour (MWh) in October 2022 (with intra-day peaks of more than 1,000 euros), almost three times those of early October 2023.
With 279 terawatt hours (TWh), EDF then recorded its lowest production since the end of the construction of its nuclear reactors. Hydraulic production, for its part, had fallen to its lowest level since 1976, a year of great drought, due to exceptionally hot weather conditions and little rain. France had even become a net importer of electricity, a situation not seen since 1980.
Very high water retention
RTE is counting on good availability of EDF's 56 "units". Of the 61.3 gigawatts (GW) of installed capacity, around 45 GW will be available on 1er December, and undoubtedly 50 GW in January 2024, RTE forecasts, or 6 GW more than a year ago (six 900 MW reactors). "Although the phenomenon of corrosion always causes checks and
values ​​on the reactors, underlines the company, uncertainty regarding its impact on fleet availability has reduced compared to the first half. »
We are thus getting closer to the 55 GW which had been mobilized on average in December and January between 2014 and 2019. The two months where we record the lowest temperatures, and therefore the historic peaks in consumption in the early evening, when the French are relaunching lighting, household appliances and electric heating (35% of homes). Even in the event of strong demand, France could overcome this difficult milestone.
You have 45% of this article left to read. The rest is reserved for subscribers.