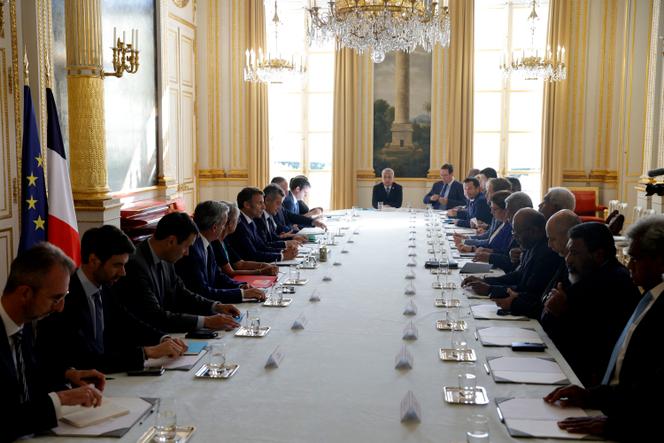 The first rugby fans converge in an end-of-the-world furnace towards the Champs-Elysées fan-zone, after 5 p.m. Friday, September 8, when the delegations from New Caledonia leave a presidential palace surrounded by the Parisian traffic jams of the great days. They have just met in front of the Head of State, Emmanuel Macron, to talk about a possible future: independentists, non-independentists, representatives of the State have gathered as in a council of ministers around the table at the Elysium. An hour earlier, they had done the same at Beauvau, with the Minister of the Interior, Gérald Darmanin. Such a family reunion had not taken place since 2019. They will see each other again in Nouméa.
After a year of preliminary work, the executive has succeeded in bringing all New Caledonian political leaders to Paris this week to finally get into the heart of the discussions on the future status of the territory – you have to write a project to get out of the situation. Nouméa agreement of 1998, which has come to an end. "We are working on an agreement by the end of the year"ured the Elysée.
Words always diverge – when the government hails "trilateral meetings", the separatists reserve this term for the upcoming negotiations. And the hardest part begins for the leaders of divided political formations, Union Calédonienne (UC) and Palika for the Kanak and Socialist National Liberation Front (FLNKS) on one side, Remblement, Loyalists and Calédonie together, on the other: will arrive tomorrow the real concessions, the sanction of a base to which we have promised too much, the daggers from rivals.
"A note of hope"
But after a week of discussions on New Caledonian institutions and the economy, two patients to save, "a note of hope" sounds, according to Milakulo Tukumuli. Arbitrator of the Caledonian Congress with the three seats (out of 54) of his Wallisian party L'Eveil Océanien, he erts: "We have made more progress in recent days than in recent years. »
"Very clearly, we have moved to another stage, of discussion, of negotiation. In substance and form, we made great progress today", greeted the leader of the loyalists, Sonia Backès, president of the southern province and also secretary of state for citizenship. Still on the right, Le Remblement, through the voice of Virginie Ruffenach, believes that"a milestone has been reached" and greet "a healthy, clear and sincere approach". "The machine is in motion, we will reach a consensus between us"also swears Philippe Gomès, of Caledonia together. "The State had to help us move forward, it did it with a method, a project and a timetable"summarizes his colleague Philippe Dunoyer, both a member of Calédonie ensemble and a Renaissance deputy.
You have 68.36% of this article left to read. The rest is reserved for subscribers.