the exploit of Japan, the gesture of protest of Germany, the box of Spain… the highlights of this Wednesday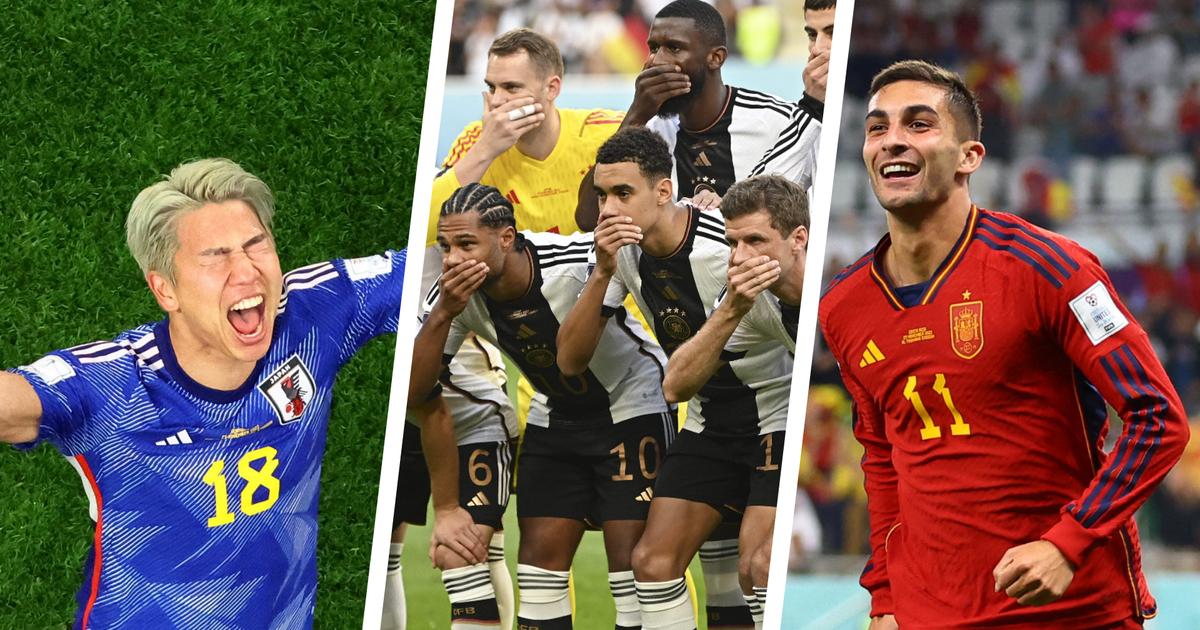 Find the highlights of this fourth day of the 2022 World Cup. Germany, Spain and Belgium entered the competition.
The exploit of the day: Japan overthrew Germany
A match that will go down in history. As in 2018 when it fell to South Korea, Germany lost for its entry into the World Cup. This time the executioner is Japan, author of a nice comeback (1-2).
The Mannschaft had the game in hand after Gündogan opened the scoring from the penalty spot, but they never managed to make the break. The fault of an excellent Shuichi Gonda, the Japanese goalkeeper, author of eight stops. Against the run of play, the Japanese then managed to equalize and then take the lead through Doan (75e) and Asano (83e).
The Germans will have to react to the next game. It won't be easy against an impressive Spain, which beat Costa Rica on Wednesday (7-0).
The gesture of the day: Germany motus and sewn mouth
The image went around the world in just a few minutes. The German players took advantage of the photo taken before their defeat against Japan (1-2) to cover their mouths. A strong signal sent against the ban on the "One Love" inclusive armband, a symbol of the fight against discrimination. Fifa indeed recommended to the selections not to wear it under penalty of sporting sanctions.
In the stands, the Minister of the Interior in charge of sports Nancy Faeser donned the famous armband. She was alongside Gianni Infantino, president of Fifa. For its part, the German federation sent a press release on social networks. It read, among other things: This is not a political message: human rights are non-negotiable. It should be obvious. Unfortunately, this is still not the case. »
Card of the day: Spain made short work of Costa Rica
La Roja was on display. For their first match in the competition, the men of Luis Enrique have spent seven in Costa Rica, which simply did not see the light of day (7-0).
Dani Olmo, Marco Asensio, Gavi, Ferran Torres (double), Carlos Soler and Alvaro Morata each managed to deceive Keylor Navas. Thanks to this impressive performance, Spain took the lead in Group E ahead of Japan.
The number of the day: 0, like the number of goals scored during Morocco-Croatia
Unhappy finalists in 2018, Croatia were keen to start this 2022 World Cup well. But the Vatreni could not do better than a disappointing draw against Morocco (0-0). A game to forget for football lovers. Despite the desire and the rhythm, neither team managed to create a real chance. There were only seven strikes, two of which were on target. Insufficient to hope for better than a sharing of points.
World Cup: strong images of France-Australia