The Eye of INA: Jean-Luc Godard-Marguerite Duras: a historical face-to-face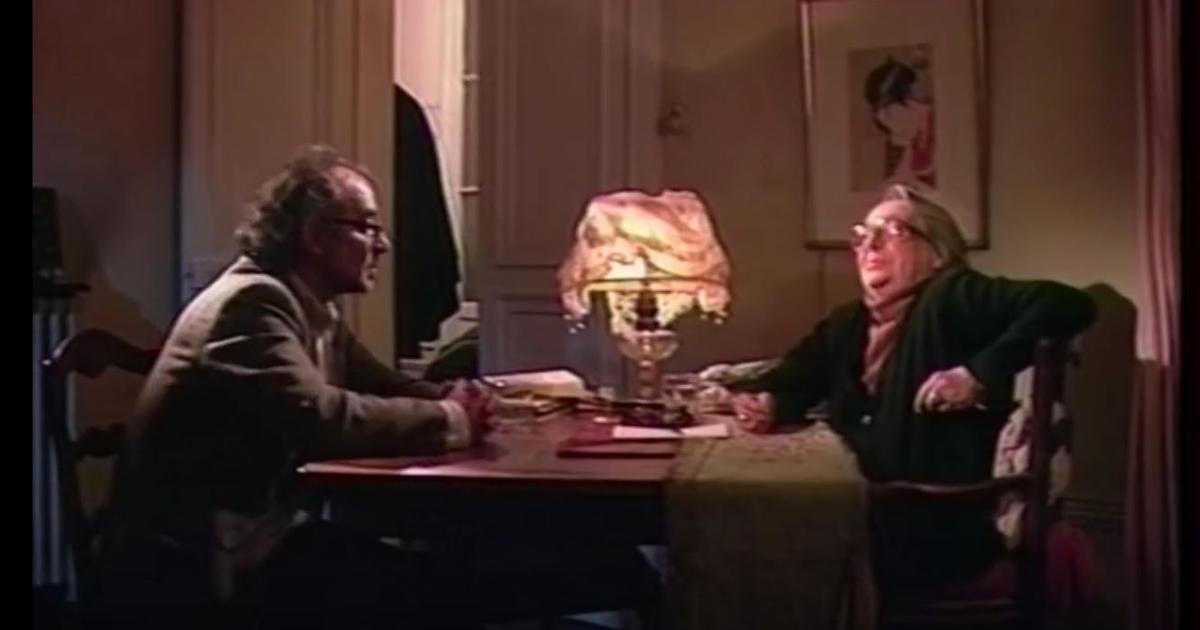 A movie monster meets a literary monster. Jean-Luc Godard and Marguerite Duras find themselves in an accomplice face-to-face in December 1987.
Faced with a television camera and questions from journalists, Jean-Luc Godard has systematically cultivated silence rather than confidences. An exception does not confirm this rule: the one-hour face-to-face, in 1987, between the filmmaker and Marguerite Duras, also much more at ease in writing than orally. They then accepted him out of friendship for Pierre-André Boutang, producer of Oceanica magazine for the second half of the evening, evokes "ideas of men, works".
Broadcast on December 28, 1987, this interview is considered the media event of the end of the year celebrations. Directed by Jean-Daniel Verhaeghe, considered a unique document in the history of the big screen and literature, it is currently offered by Madelen.
Complicity
It begins with the arrival of the director in the Parisian apartment, rue Saint-Benoît, of a novelist whom he immediately meets because he knows her well. They saw each other five years earlier in Trouville and resume their conversation as if they had parted the day before. Godard is in the news with take care of your rightjust like Marguerite who publishes Emily L. From the first images, intimacy is essential: he kisses his interlocutor who asks him if the make-up artist has put foundation on him so that he does not shine in front of the camera. Tit for tat, smiling, he replies: "Ah me not, no! I have it naturally: I have my beard! » .
Read the fileDeath of Jean-Luc Godard, the master of the New Wave
This is how what one could have imagined as a confrontation worthy of today's debates which are making the buzz, is transformed into a series of reciprocal accomplices confidences, punctuated, of course, by a few silences. Assuming that she likes to speak well, she begins by throwing "your film is very beautiful" before adding, a little later, "you are the quintessence of cinema!". However, she wonders about the usefulness and the meaning of dialogues, the importance of sound, but also of silences on the screen. It doesn't take much for these two "sacred monsters" to let go, in their own way, and begin to discuss artistic creation through writing and filmmaking.
Psychoanalysis session
After confiding his admiration for Marcel Pagnol, Sacha Guitry, Jean Cocteau and - of course, Marguerite Duras, Godard rediscovers his true nature. Obviously, he is only really comfortable when he speaks badly. This is how he does not hesitate to pour out his gall on Steven Spielberg. He also quotes Paul-Loup Sulitzer, whom he calls Paul-Louis, in front of Duras who does not even know the name of the man whose novels were then bestsellers. His tone changes when his interlocutor turns into a psychoanalyst with questions, or more precisely interrogations, to which he responds with unexpected humility. He confides, among other things, that he does not always see the films until the end, and that he is content to leaf through the books, including those of Marguerite Duras. He confesses that if he hadn't exercised this profession which made his legend, he would have written one or two bad novels for Gallimard, which would probably have been refused. He adds that he probably wouldn't have gone all the way. The cinema fortunately allowed him to have a voice in the matter.