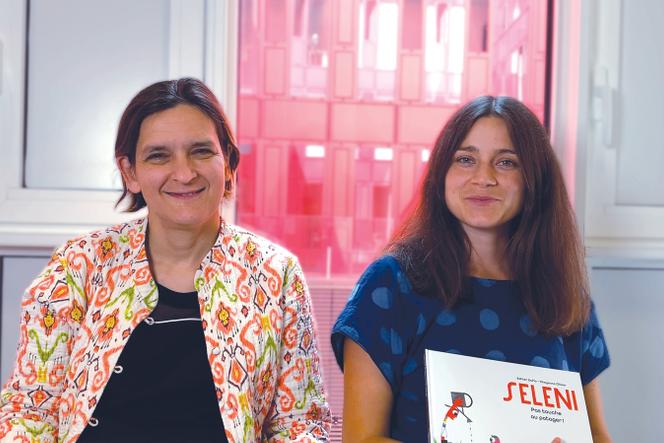 Encourage children to ask themselves the right questions, while breaking down prejudices about poverty. The 2019 Nobel Prize in Economics Esther Duflo publishes, with illustrator Cheyenne Olivier, a series of ten children's books, based on the themes covered in her book Rethinking poverty (co-written with Abhijit V. Banerjee, Seuil, 2014). Released Friday 1er September at Le Seuil, the last five volumes give a large place to the consequences of climate disorder for the poorest.
Why write for children?
Esther Duflo: Books are essential for the construction of the youngest and the values ​​that we transmit to them. As a child, the ones I read made me ask myself a lot of questions about the world and my responsibility. Unfortunately, children's books on the subject spread a lot of stereotypes.
Cheyenne Oliver: The work for my thesis, which deals with the illustration of poverty in children's books, indeed shows that there are often two pitfalls there: misery or heroism. We tried hard not to fall into it.
How to find the right tone to address the youngest, without plunging them into eco-anxiety?
ED: We avoid telling them that they are the superheroes who will be able to solve climate problems, when we adults are incapable of modifying our behavior a little. In the album Thumpa, the little girl who wants to save the trees sets off a chain of actions without which nothing would be possible – the other children and the adults get involved like her, then the television comes to the village, then the international community intervenes thanks to carbon credits helping to preserve the forest – but it does not act alone. Adults reading the album can see at what point in this chain everything can go off the rails.
What impact did the pandemic and then the war in Ukraine have on the poverty front?
ED: To measure them, it is worth recalling the progress made in recent decades. After the 1980s, during which the Washington Consensus [les principes économiques qui guidaient à l'époque le Fonds monétaire international et la Banque mondiale] which imposed major budgetary balances on them, poor countries succeeded in regaining control of their economic and social policies during the 1990s.
By following the Millennium Development Goals [adoptés en 2000 par les Nations unies], very varied in terms of the fight for education, health or women's rights, local governments have been able to tackle concrete problems effectively, essentially with their own resources.
You have 55.93% of this article left to read. The following is for subscribers only.