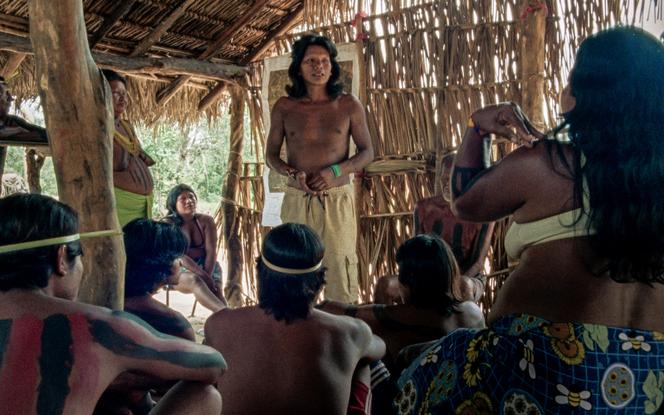 OFFICIAL SELECTION – A CERTAIN REGARD
The previous feature film by the duo Joao Salaviza and Renée Nader Messora, The song of the forest, received the Special Jury Prize at the Cannes Film Festival in 2018. The result of a long nine-month immersion among the Kraho people, in the preserved territory of the State of Tocantins, in northeastern Brazil, the film – at the crossroads of fable and anthropological documentary – had amazed by its poetic magic, revealed by each of its shots. We find this magic in Buriti's Flower, shot in the same place, in collaboration with the same Kraho people whose story comes to us, here, through several eyes. In particular those of young Ilda Patpro Kraho, Hyjno Kraho and his wife, Luzia Cruwakwyj Kraho.
The journey touches on the sacred, which is carried out slowly, to the rhythm of daily tasks, gestures and ancestral rituals, sculpting a poetic territory as it progresses. Which acts like an elixir that sharpens our senses and brings us back to the beginning of humanity. Forgotten memory suddenly revived by the Kraho people whose reality and imagination are connected to ours. It is this link that the Portuguese Joao Salaviza and the Brazilian Renée Nader Messora first recreate in Buriti's Flower.
From there, a long story is patiently elaborated where three eras intersect, respond to each other and sometimes merge, by their eternal renewal. Each relating to traumatic episodes. The Kraho macre perpetrated in 1940 by farmers wishing to appropriate their land. The persecutions they suffered during the military dictatorship in Brazil (from 1964 to 1985). And those of which they are still victims today, in particular during the presidency of Bolsonaro, with the implementation of his policy in favor of agribusiness, to the detriment of the indigenous populations.
voices of elders
This story that the film tells, without us having to leave the forest – this original cradle which gradually (re)become familiar to us – makes the voices of the elders heard and the songs that summon souls. It restores, through their words and their relationship to the world, the memory of the Kraho people. Finally, it carries the voice of present and future generations. The one that takes us, in the last part of the film, on the roads leading to Brasilia, where the natives have planned to gather, in traditional outfits, in order to demonstrate and defend their rights before the Supreme Court.
You have 37.75% of this article left to read. The following is for subscribers only.