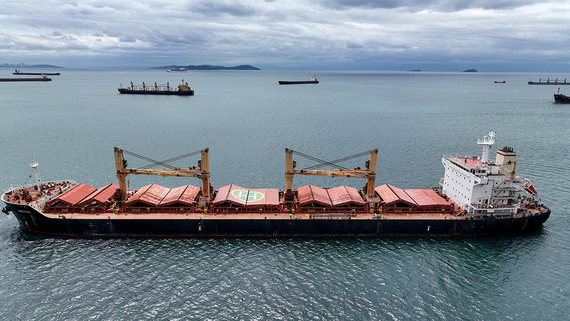 The Russian Foreign Ministry rejected the idea of ​​expanding the "grain deal". This statement was made by the official representative of the Ministry of Foreign Affairs Maria Zakharova.
She specified that as part of the deal, the list of goods and the number of ports cannot be expanded. "The Russian side has repeatedly brought to the attention of other interested parties during expert meetings the position that there can be no talk of expanding in these two categories that you mentioned – the list of goods and the quantity," Zakharova specified (quoted by T).
Thus, Zakharova commented on the information of the Reuters agency, whose source reported that Ukraine could allow the transit of Russian ammonia in exchange for an increase in ports and goods involved in the "grain deal".
According to an agreement between Moscow and Kiev, Ukrainian grain is exported from three ports, including Odessa, Yuzhny and Chornomorsk. The second agreement concerned istance in the export of Russian grain and fertilizers. The "grain deal" was concluded on July 22, 2022 by representatives of Turkey and the UN, on the one hand, and representatives of Russia and Ukraine, on the other. Moscow has repeatedly noted that the second part of the deal is not being implemented.
The agreements have already been extended several times. On May 18, the Russian Foreign Ministry stated that if Russia's conditions are not met, then "there is no question of any expansion of the Black Sea Initiative in principle, and the agreement itself will be terminated after July 17."
Russia insists on five "systemic" objectives of the deal, on which there is no progress: reconnecting Rosselkhozbank to SWIFT, resuming supplies of spare parts for agricultural machinery, unblocking transport logistics and insurance, restoring the Togliatti-Odessa ammonia pipeline, and unfreezing the ets of Russian companies.