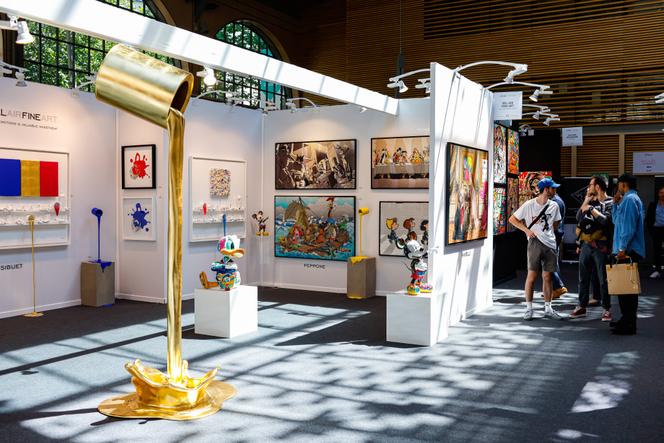 A wind of panic has been blowing across the French art market since the publication, in February, from an article from Echoes reminding us of a brutal deadline: from January 2025, under a tax directive adopted in April 2022 by the European Union, the VAT rate on the first sale of a work or importation from a country extra-community was to increase from 5.5% to 20%. This sounds "the death knell of the French market"immediately alerted merchants and artists with tribune and articles.
After months of intense negotiations, market professionals found a compromise with the ministries of culture and the economy. According to information from Echoes, France will maintain a reduced VAT rate. This decision will be the subject of an amendment tabled in Parliament in mid-October, from the first reading of the 2024 finance bill, which coincides with the inauguration of the second edition of the Paris + fair by Art Basel.
The subject may seem technical. But it says everything about the specificity of the art trade, going against the usual rules of international trade, where it is logical to curb imports and encourage exports. Until now, France charged a rate of 5.5% on the first sale, and 20% on the resale, but only on the profit margin. This advantageous tax system had made France a preferred gateway for the importation of works into Europe, an et which, coupled with Brexit and the proliferation of private foundations, had encouraged the installation in Paris of some heavyweights foreigners, such as Germans David Zwirner or Max Hetzler. "France has become, by far, the leading European market, representing 54% of sales by value"says Marion Papillon, president of the Professional Committee of Art Galleries.
Dynamic market
An increase in VAT would inevitably have stopped this dynamic. "French dealers should have ped on the increase in VAT to the price of the work, pushing collectors to seek to acquire it under more advantageous conditions, in London or New York"explicit Guillaume Piens, director of the Art Paris fair.
With supporting figures, professionals argued to Bercy that the tax revenues that an increase in VAT would bring would be less than the potential gains generated by a dynamic art market. "The French market is worth 4.7 billion euros, 61,600 direct jobs and 111,275 indirect jobs, which places us at the same level as sectors such as advertising and publishing, explains Marion Papillon. More than three quarters of State tax revenues from the art market come from the jobs generated by this market, and therefore, indirectly, from the turnover of the structures making it possible to ume these jobs. »
You have 21.46% of this article left to read. The rest is reserved for subscribers.