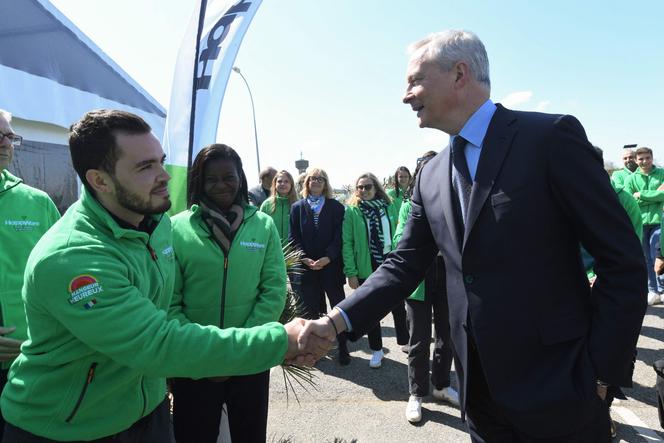 No debt, no taxes. For the executive, the fight against global warming will have to do without these two financing tools traditionally used by France in the face of crises. Tuesday, May 23, the day after publication of the report by economist Jean Pisani-Ferry on financing the fight against global warmingseveral members of the government took turns on the air to defend the line held since 2017 by Emmanuel Macron.
The report submitted by the economist to Prime Minister Elisabeth Borne estimates the need for public and private financing at nearly 70 billion euros per year, to deal with the climate crisis and reduce greenhouse gas emissions. He advocates increased recourse to indebtedness (by 10 points of GDP by 2030), coupled with an exceptional tax on the financial ets of the 10% of the wealthiest taxpayers, which would bring in 5 billion euros per year. The financial wealth of households is no longer taxed since the abolition of wealth tax (ISF) in 2018, a tax refocused on real estate. Only the flows from this heritage – financial income, dividends, capital gains – are taxed at 30% via the "flat tax".
Bercy's response was immediate. "Is the tax a solution? No ! », decided the Minister of the Economy Bruno Le Maire, Tuesday, on RTL. The Minister, who has once again made himself the guardian of fiscal stability, believes that the report presents the tool tax "as an option, not as a necessity". He points out that potentially targeted taxpayers "already pay 75% of income tax". "Our policy is to lower taxes, to lower the tax burden in a country that has the highest tax burden of all developed countries"he insisted, saying on the contrary that he wanted "reure taxpayers".
Same story on the side of Olivier Véran, the government spokesman, who dismissed on France Inter the idea of ​​​​a new tax already baptized "Green ISF". "If one tax were enough to transform our country and the future of the planet, that would be great. But I don't think that's really the point."he explained on Tuesday, saying he was convinced that"we can do it without" taxation.
"No philosophical obstacle"
The Minister of Ecological Transition Christophe Béchu, on the other hand, was less closed. "The question of a tax is a subject that cannot be taboo, he said on FranceInfo. Not everyone has the same carbon footprint (…). In the same way that on a global scale, there are solidarity mechanisms which consist in asking the countries of the North to finance part of the transition, it is legitimate for this question to be raised in the national sphere. » A position that does not reflect the government's position, Matignon is ured: "On the funding proposals [avancées par le rapport], Olivier Véran spoke this morning on behalf of the government. »
You have 53.17% of this article left to read. The following is for subscribers only.