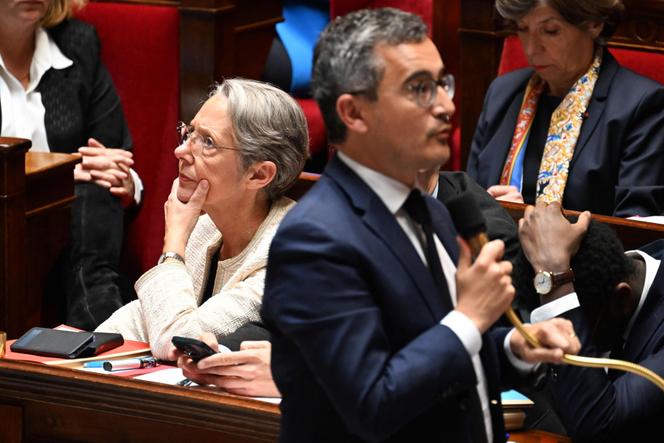 Who will trap the other? The day after the offensive of the Les Républicains (LR) party, in the Sunday newspaper (JDD) May 21which presents radical ideas for "take back control" of an immigrant " mive ", the executive tries to hide his trouble. In a three-voice interview, Eric Ciotti, boss of the LRs, Bruno Retailleau, president of the group of senators from the right-wing party, and Olivier Marleix, leader of the LR deputies, together detail two future bills, including a constitutional revision : referendum open to migration policy, derogation from European law, reinstatement of the offense of illegal residence…
An initiative to pull the rug out from under Emmanuel Macron, whose immigration bill has been postponed and then revived seven times. All this, accompanied by a threat, presented by Olivier Marleix: that of the filing of"a motion of censure" in the National embly if the government attempted to p " a lax text", by having recourse to Article 49.3 (which allows a text to be adopted without a vote). However, for the adoption of its future text in Parliament, the government needs the right, which remains an essential partner in obtaining a compromise.
Two months after having escaped censorship in the National embly, the government of Elisabeth Borne is caught at its own game. On April 26, the prime minister had postponed the immigration bill by targeting LR officials, accused of being incapable of " draw a common line between the Senate and the embly". Way to insist on the ideological disorder which reigns within a party tested by the internal battles on the pensions.
A recalcitrant ally
Since the end of March, the government bill has been suspended, after being toughened in the Senate law committee. The President of the Luxembourg Palace, Gérard Larcher, had himself asked the President of the Republic and the Prime Minister not to put it on the agenda, fearing a new psychodrama within the LR after that of pensions … A godsend for Matignon, where it was judged " frightening " this text revised by the senators, which abolished in particular the state medical aid (AME), created under Lionel Jospin, to allow foreigners in an irregular situation to benefit from access to care.
When, on May 9, Elisabeth Borne announced that a bill would finally be ready in July, entrusting the consultations to the Minister of the Interior, Gérald Darmanin, the majority believed they held the key to trap the recalcitrant ally LR: play public opinion against right-wing elected representatives, who will have to justify to their voters any rejection of measures against illegal immigration.
You have 62.57% of this article left to read. The following is for subscribers only.