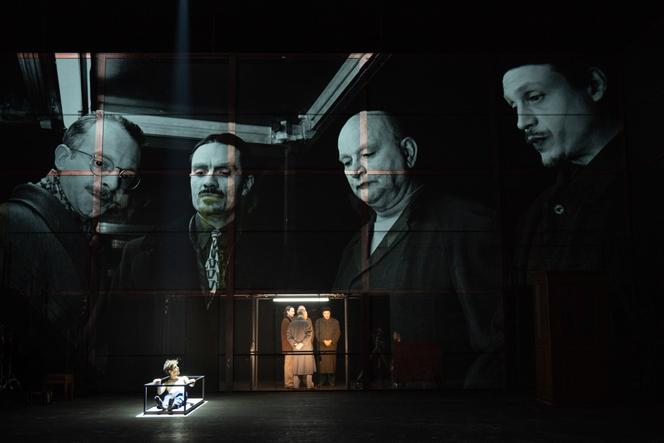 Tick ​​tock. What's between this tick and tock? A man's life, which can tip towards death. A tick, you are alive. Damn, you're dead. This is what will perhaps happen to Semione Semionovitch, the antihero of Suicide, a brilliant play, written by the Russian author Nicolaï Erdman (1900-1970) in 1928. Jean Bellorini, the director of the National Popular Theater of Villeurbanne (Rhône), reruns it today with his French troupe, after having signed a first staging in German, in 2016with actors from the Berliner Ensemble.
How did he find himself in this situation, this Semion Semionovitch, a commonplace and insignificant little man, not to say a little mediocre, unemployed by profession? One night, he was in bed with his wife, when he had an irrepressible urge to eat liver sausage. He woke up his wife, argued with her and, thereupon, disappeared, threatening to quickly breathe his last breath.
From there, the crazy mechanism imagined by Nicolaï Erdman gets under way. The news of Sémione's future suicide causes a swarm of characters to tumble, who want to use her act to promote their cause. Whether it is religion, the intelligentsia, petty commerce or romantic love, they say "the deceased pours his water into our mill". The problem is that Sémione, who felt less than nothing before all this affair, finds a taste for life at the same time as he finds value in the eyes of others, as a future suicide. What to do ? Tick-tock, tick-tock, tick-tock. The countdown is accelerating. A man is going to die, but maybe not the one we think.
Puppets in search of meaning
No wonder it was quickly banned by the Soviet censors, this acid portrait of Stalinist Russia, a country in which there was often only a breath of air between the tick of life and tick of death. "At the time we live, what a living can think, only a dead can say", does not hesitate to declare Nicolaï Erdman in his play. But The Suicide goes far beyond its historical and political dimension, to open up a beautiful reflection on the value of life and the meaning of existence.
This "Suicide" lacks both the tragic, the grating dimension and this very particular Russian comedy, all the more devastating as it is absolutely black.
The piece could therefore make sparks today, which is unfortunately not the case in the staging of Jean Bellorini, in small artistic form after the great success of game of shadows, his previous showin 2020. This lacks Suicide both the tragic, the grating dimension and this very particular Russian comedy, all the more devastating as it is absolutely black. Here, everything is a bit bland, despite the charming colorful costumes signed by Macha Makeieff.
You have 37.41% of this article left to read. The following is for subscribers only.