The Great Magic, Pour la France, Emmett Till… Which films should you see or avoid this week?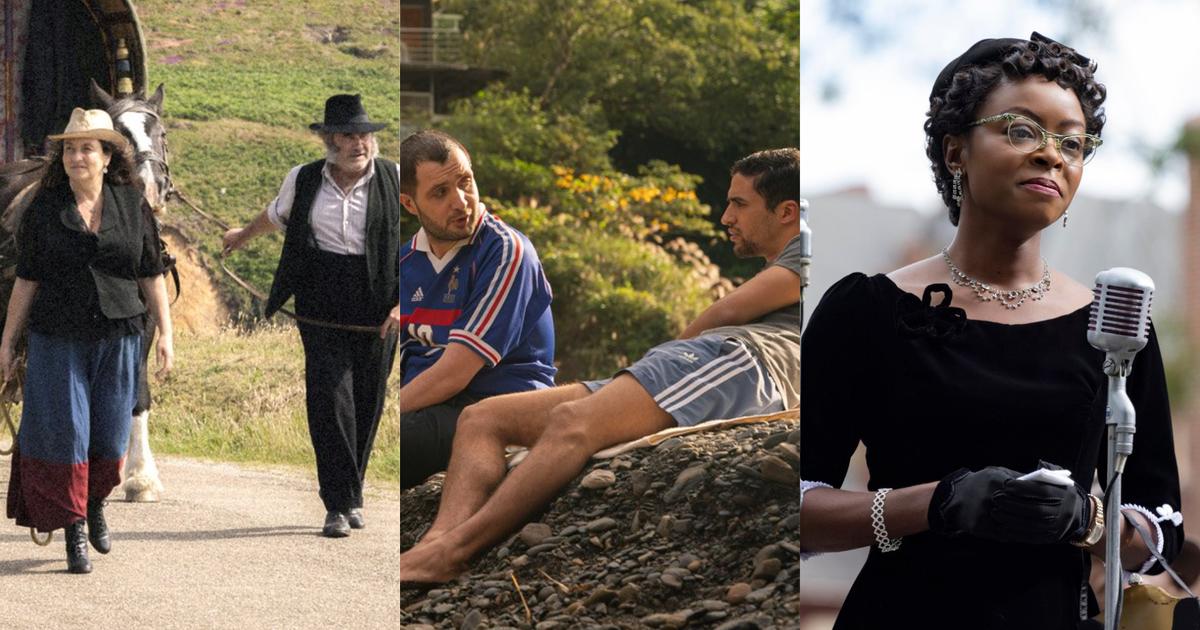 Noémie Lvovsky adapts the play by Eduardo De Filippo, Rachid Hami is inspired by the death of his younger brother, the true story of an African-American mother on a crusade after the death of her son… this week? Discover the cinema selection of Figaro.
The Great Magic – To have
Musical comedy by Noémie Lvovsky, 1h50
The Great Magica play by the Neapolitan playwright Eduardo De Filippo, dates from 1948. Noemie Lvovsky transposes it to the 1920s, in a France that is cradled in illusions. Peace, like love, will last forever. In a hotel by the sea, an illusionist, Albert, a poor magician but an excellent huckster (Sergi Lopez), invites one of the clients, Marta (Judith Chemla), to participate in a disappearance number. The young woman, unhappy wife of a jealous husband, Charles (Denis Podalydes), takes the opportunity to evaporate. This is the starting point of La Grande Magie, a fable about our need for fiction in the face of raw and cruel reality, which allows Noémie Lvovsky to put back on the job an obsession already at the heart of Camille repeats. If a love doesn't last forever, is it really love? Does love have to be absolute and for that to resist time? Serious questions that the filmmaker asks without moping. The Great Magic is also a declaration of love to the cinema, fairground and impure art, a total show that embraces music hall, theater, dance and music. Noémie Lvovsky has a formidable troupe of actors play, dance and sing (Francois MorelRebecca Marder, Damien Bonnard, Micha Lescot, Laurent Poitrenaux) on the delicate pop of the group Fire! Chatterton. A joyful and beautiful illusion. E.S.
Read alsoNoémie Lvovsky: crazy cinema
Titina – To have
Animated film by Kasja Næss, 1h31
The Italian Umberto Nobile lives peaceful days under a postcard sun, alongside his family and his faithful Titina, a plump fox terrier. He plunges back into the memory of the historic expedition that took him to the North Pole, in 1928, in an airship of his invention. The adventure takes her to the frozen confines of the world in the company of the Norwegian explorer Roald Amundsen, their respective teams… as well as Titina. The merry mutt, however, sows discord in the crew. With a crazy charm, the film infuses its flying machines and its arctic deserts with a continuous enchantment. Beaten pride and a broken friendship disturb the delights of travel. This swan song of great explorations has bitter beauty. CS
For France – To have
Drama by Rachid Hami, 1h53
For France is inspired by a true story. That of its author, Rachid Hami, of his family, of his brother. Lieutenant Jallal Hami, the second son of three siblings, born in Algeria and raised in Seine-Saint-Denis, a brilliant student at Sciences Po Paris and a new recruit at the School of Army Officers in Saint- Cyr Coëtquidan, drowned in an icy pond one night in October 2012. In school jargon, we do not speak of hazing but of "barking" to designate an exercise in integration as much as humiliation , organized by the second year. The scene opens the film. It gives way to the pain of the family, to the tears of a mother. Aïssa (his first name in the fiction), the handsome young man full of the future, is a corpse dressed in the prestigious uniform.
For France is not the foreseeable and expected indictment against the army. Even if the great mute intends to preserve the honor of the institution and does not yield anything on the protocol of the funeral. The burial is also the subject of tense negotiations.
For France nor is it an investigative film. He mainly focuses on Ishmael, his on-screen double, the older brother. He remembers their native country, Algeria, in the early 1990s. The escape to France with their mother (Lubna Azabal), when their father refuses to leave and even tries to kidnap Aïssa. These two brothers in a foreign land, so French although polyglot (Aïssa speaks English and Chinese), have little to do with the guys from the estates on vacation in Pattaya, another predictable and expected cliché. They don't have much in common either. As A little brotherby Léonor Serraille, released last Wednesday, For France shatters the necks of many clichés about immigration and uprooting. And also stages this fragile and powerful bond between two brothers, here superbly interpreted by Karim Leklou (BAC north) and Shain Boumedine (Mektoub, my love). E.S.
Read alsoOur review of For France, the honor of a brother
The Return of the Swallows – To have
Drama by Li Ruijun, 2h13
Chinese director Li Ruijun has set up his camera in a rural part of his country to tell a story of an arranged marriage. Ma Youtie and Cao are forcibly married. The ceremony takes place in front of a red wall. They keep their eyes downcast. All is said. Contemporary China worries them. They prefer to stay in the countryside. These two foreigners work in the fields, raising chicks in a cardboard box with holes in it. This rural universe lives according to the calendar of the seasons. They punctuate this courageous and orderly existence. The couple bury themselves in one of those places without civilization. They didn't know each other. They tame each other, share memories, confide secrets. They laugh and they cry at the same time, discover commonalities. His family considered him a failure. She has a disabled arm, suffers from incontinence, has an uncommon blood type called "panda blood".
In The Return of the Swallows, links are woven, tightened. He draws a flower on her hand with grains of wheat. She's waiting for him in the rain with a flask of hot water and that's the most wonderful gift, sums up all the love in the world in a single gesture. Together, they build their house, with infinite patience, by piling up bricks of dried mud. Over there, kilometers away, we are urbanizing all the time. A civil servant offers them an apartment in town. What would they do with it? There is a great modesty there. This does not exclude that we are in the field of fine arts. Everyday poetry cradles this chronicle with dignified austerity, a purity, an obviousness that we don't often see. IN.
Read alsoOur review of Return of the Swallows: The lovebirds hide to unite
Emmett Till – To have
Drama by Chinonye Chukwu, 2:10
In 1955, an African American from Chicago visits his cousins ​​in segregated Mississippi. Accused of flirting with a white shopkeeper, he was kidnapped and lynched by relatives of the young woman. Emmett's mother (Danielle Deadwyler, Exceptional) goes on a crusade for justice. An applied reconstitution. CJ
Tower – You can see
Drama by Guillaume Nicloux, 1H29
The jack-of-all-trades Guillaume Nicloux tries his hand at horror films by imagining residents trapped in a building. One fine morning, or perhaps one night, the residents of an apartment tower find themselves isolated from the rest of the world by a black, opaque fog that devours anyone who dares to venture there. After the stupor of the first hours, the tower turns into a pressure cooker where each community on edge withdraws into itself. Whites with whites, blacks with blacks, Arabs with Arabs. Minutes pass like months and food becomes the sinews of war. Domestic animals are the prey of all trafficking. The rumors are rife. The Yugos of 9e would have a hen at home. Looting, prostitution and racketeering at all levels. No inhabitant of the tower exercises a profession, legal at least. Whatever his skin color, he is reduced to a social case. The only character whose profession we know, the nurse, is outside the building and finds herself trapped. Nicloux, a skilled building caretaker but blinded by his pessimistic vision of the working classes, unfortunately neglects the fantastic and metaphysical dimension of his black hole. E.S.
Read alsoThe Tower, deadly confinement
As long as the sun is beating – You can see
Drama by Philippe Petit, 1 h 25
Max (Swann Arlaud), landscape architect, fights to create a "garden open to all" in a poor district of Marseille. To impose his views, he risks his family and his reputation. Too bad the filmmaker made him a radical guy, who didn't understand that man has everything to gain by bending rather than breaking. OD
tracks – You can see
Drama by Tiago Guedes, 2:07
Hunting scenes in Portugal. During the annual feast, a boy is killed. The past resurfaces in this rural society, with rites of passage, village idiot and its dogs, wind turbines and toxic masculinity. A fairly fixed drama, but not devoid of a certain beauty. IN.
Alibi.com 2 – To avoid
Comedy by Philippe Lacheau, 1 h 28
Philippe Lacheau is fearless, wrestling with a Didier Bourdon the buttocks in the air. His film rarely flies above the belt. It's sometimes funny, or stupid, or both at the same time. A regressive humor and a very sure bad taste. E.S.
---
TO HAVE ALSO – "The Night where Laurier Gaudreault woke up": Xavier Dolan "manages to film the pain like no one", praises François Aubel