On September 12, at the same time as the National Radio Frequency Agency (ANFR) asked Apple to remove your iPhone 12 from storesApple announced its new iPhone 15, four relatively uninnovative smartphones, in a long advertising film filmed in the San Francisco region.
Apart from the traditional progress in photo quality, we particularly noted the adoption of titanium by the Pro models: combined with aluminum, it will make up their new dress, becoming lighter by around twenty grams. "It's impressive, it's the metal with the best strength-to-weight ratio," explain to World Pierrick Claverie, mechanical engineer at the French manufacturer of shock-resistant mobiles Crosscall.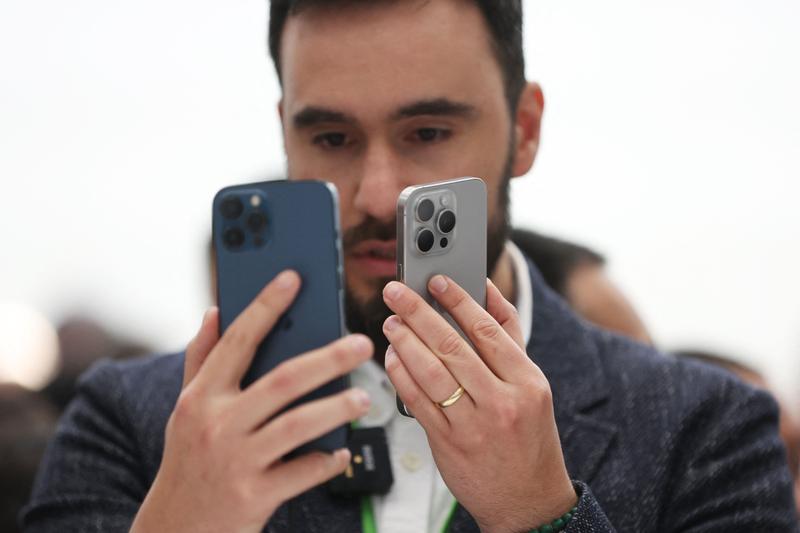 However, it is a less spectacular announcement, handled more discreetly by Apple, which deserved the most attention: the transition of the iPhone 15 to the USB-C socket, replacing the traditional Lightning connector, which fitted Apple's smartphones for eleven years. It is the European Union which is at the origin of this transition: from December 28, 2024, " smartphones without this connector can no longer be sold in Europe », confirms to World a representative of the Council of the European Union.
This transition will make it easier to manage cables and chargers in our homes: consumers will be able to charge almost all their electronic devices with USB-C cables, including computers. But this transition may cause small inconveniences, especially among Apple loyalists. Among the questions they might ask is that of the charger: Apple has no longer provided one since 2020 in the box of its iPhones.
Will my chargers be compatible?
We can recharge an iPhone 15 with an old Apple charger or even a Samsung charger: compatibility problems between brands are not to be feared. But you won't necessarily be able to plug in the cable provided by Apple in the smartphone box. This is in fact flanked by two USB-C connectors (identical to the one on the far left in the photo below), one on each side.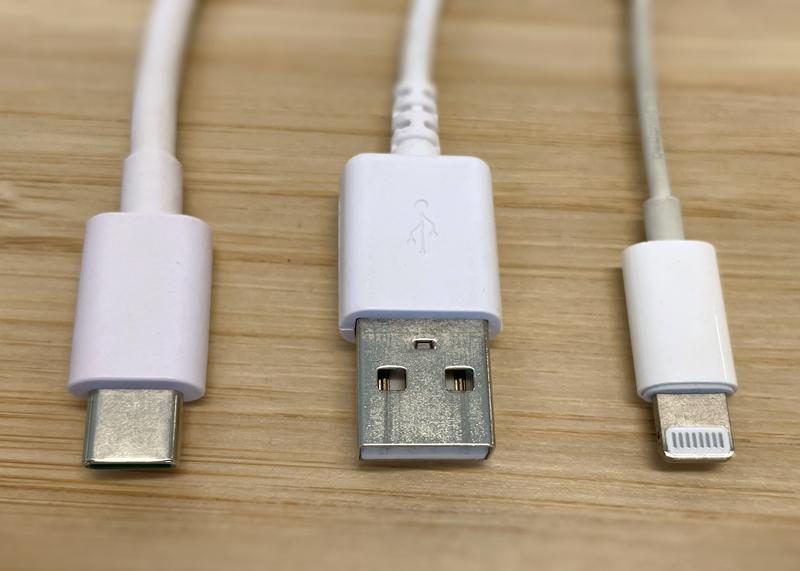 However, while some recent chargers have a suitable USB-C socket, many are instead equipped with a USB-A socket (the large connector in the middle). If this is your case, to recharge a future iPhone 15, you would need to use a cable with a USB-A connector on one side, USB-C on the other. This type of cable is fortunately already present in many homes: for several years, it has often been supplied with Android smartphones, portable consoles, Bluetooth speakers, etc.
Cautious consumers will avoid using the cables accompanying gadgets costing a few tens of euros: a small risk of damaging their iPhone cannot be ruled out. Especially if this cable dates from before 2016, the year when their reliability its improved. In the absence of a more reliable cable, we can invest in a cable recognized brand.
What charging speed can you expect?
Will this change in connectivity have an impact on the charging of the new iPhones? Impossible to answer this question at the moment. We just know, for comparison, that the iPad Pro, also equipped with a USB-C connector, recharges at a power of around 30 watts, a rather average speed compared to its competitors.
If you have a charger capable of providing this power, and if it is Apple brand or manufactured by a specialized accessory manufacturer, the recharge should go up to this height. But if you use a lower quality charger, it is not guaranteed. Olivier Simon, director of batteries at DXOmark, a French laboratory for measuring the performance of electronic devices, thus tested the speed charging of smartphones when combined with chargers from other brands. " It often peaks at around twenty watts, and can go down to 10 watts. » Chinese brands are the least exemplary: their chargers are less often compatible with the latest standard in force, Power Delivery 3.1, what does the iPad Pro support.
Will my Lightning connector accessories go in the trash?
Apart from headphone adapters, accessories that plug into the Lightning jack on iPhones are not very common. However, some individuals are equipped with a charging station or an audio speaker into which you can insert an iPhone through its Lightning socket, straight like an "i". Others use a Lightning "USB stick", a memory card reader or an HDMI adapter. Or even a gamepad or microphone.
The world
Special offer for students and teachers
Unlimited access to all our content from 8.99 euros per month instead of 10.99 euros
Subscribe
To connect these accessories to an iPhone 15, you may be tempted to buy a tiny adapter (USB-C to Lightning) sold for around ten euros. Unfortunately, their technical sheet often shows their limits. For example, they cannot carry an audio signal. It is therefore better to find out carefully before attempting this solution.
Some owners of Lightning accessories will therefore be forced to buy their equivalent equipped with a USB-C socket. They will rarely have difficulty finding them: iPad Pros and certain Macbooks have been using them for many years already. Apple even participated in the development of this connector: it is anything but foreign to the Apple ecosystem.
Will this measure avoid a cable mess?
This is one of the arguments put forward by the European Union, and it turns out to be slightly counterintuitive: the switch to USB-C will necessarily push consumers to get rid of their Lightning cables. But not all of these cables will go in the trash: some will be sold or given away with the old iPhone that they came with. In addition, the transition will not necessarily cause a wave of purchases of USB-C cables: many homes are already equipped with them.
On the other hand, the measure will reduce the number of cables in our homes: two or three USB-C cables could be enough to charge smartphones and tablets of all brands, as well as computers and many accessories, such as headphones. Fewer cables also mean fewer chargers, or fewer charging bricks.
In the long term, it is not uncommon to have to replace your cables: it is better to have to periodically buy one type of cable rather than two. In a press release, Thierry Breton, European Commissioner responsible for the internal market, said he expected "annual savings of around 250 million euros for consumers [et] a reduction in electronic waste of 11,000 tonnes ».