the Iranians create the sensation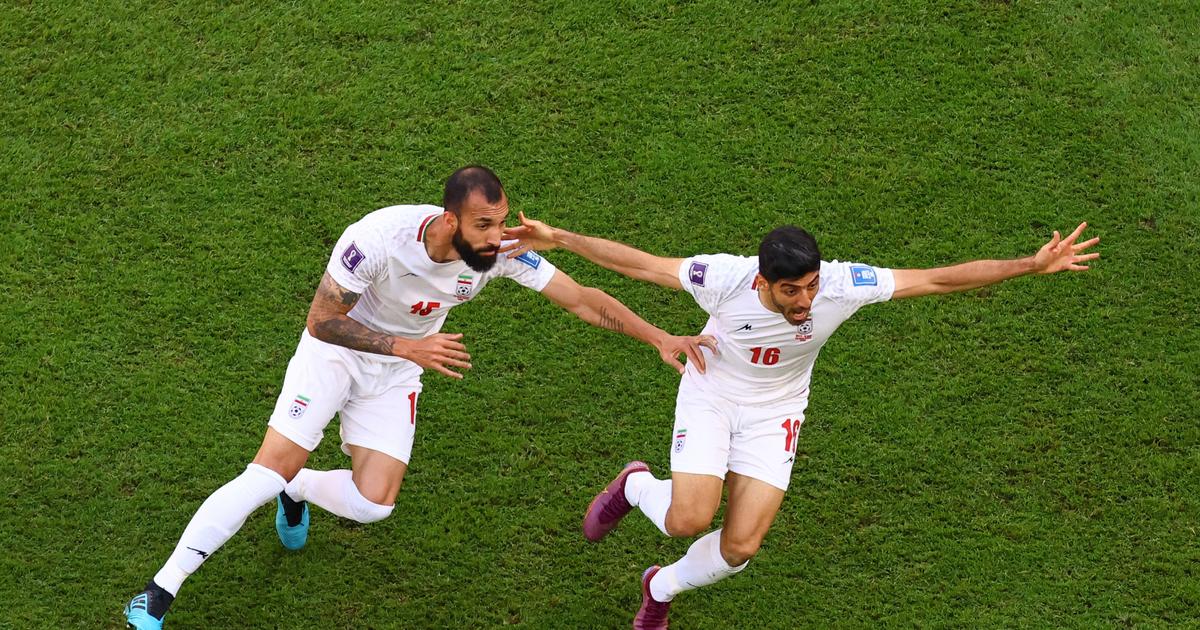 Thanks to two goals after stoppage time, Iran logically dominated the sad Welsh (2-0) and can dream big of the round of 16 of the World Cup.
A whisper before the clamor. The Iranians, who this time sang their anthem with their lips, won at the very end of the match against the Welsh (2-0) on Friday at the Stade Ahmed Ben Ali, in Group B of the World Cup, in Doha. After a heavy initial defeat against England (6-2), the "Team Melli(three points) provisionally moves into second place in the group and in the race for the round of 16 before facing the United States on Tuesday (8:00 p.m.).
This meeting promises to be highly political between two countries with no diplomatic relations, and could constitute a revenge for the historic match of the 1998 World Cup, won by Iran. On Friday, there was also a question of politics ahead of the match against Wales. While he had remained silent against England, no doubt as a sign of support for the victims of the demonstrations in his country, the Iranian eleven this time sang – timidly – ​​his anthem before the meeting. Perhaps he was cooled by the arrest on Thursday of Voria Ghafouri, a former international footballer who had supported the demonstrations against the power in place.
The Team Melli fans in any case sang "Iran, Iranloudly in the process, which may have galvanized her, because it was she who dominated the meeting before delivering the decisive thrust by Roozbeh Cheshmi with a magnificent strike (90th + 8) then by Ramin Rezaeian (90th + 11) after a counter. "We must thank our players, they deserve respect and to be respected. We play for the fanssaid Portugal's Iran coach Carlos Queiroz.
The first sending off from the competition falls to the Welsh goalkeeper
The exclusion, the first of the World Cup, of Welsh goalkeeper Wayne Hennessey (86th) for a dangerous outing in front of Mehdi Taremi helped Iran well, as did the return as a starter of their star striker Sardar Azmoun. It was he who proved to be the most dangerous, especially when, launched deep, he hit a post before heading in a shot from Ali Gholizadeh which had hit… the other post ( 51st).
Before that, he had missed a half-crampon to take a cross from close range (45th + 2), and had given an assist for Ali Gholizadeh (15th), before the goal was refused for an off position. Game. It was then a warning for Wales, who never knew how to reverse the course of the match, before the explosion of Iranian joy. With just one point, the Welsh are in danger before facing England on Tuesday, who could qualify as early as Friday (8:00 p.m.) in the event of a victory against the Americans.