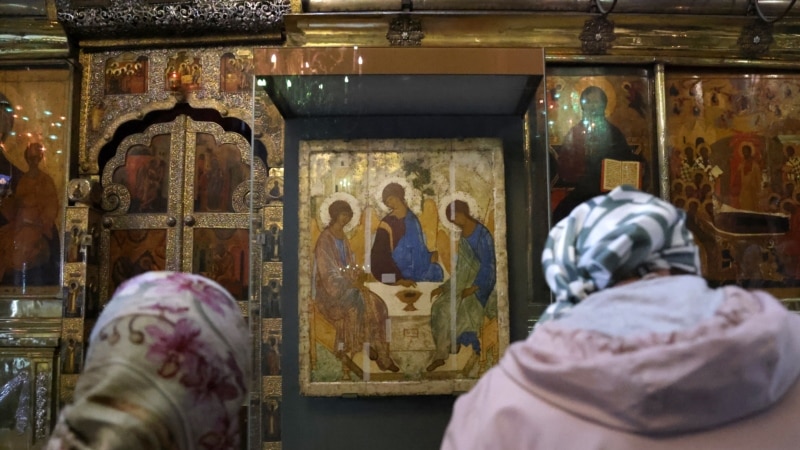 The Kremlin announced the approval of the scheme for the removal of Rublev's "Trinity" from the Tretyakov Gallery. The 15th century icon will be moved to the Cathedral of Christ the Savior in the center of Moscow. Earlier, the expert council of the gallery decided that the icon could not be removed due to its "complicated and unstable condition".
In mid-May, the head of the Russian Orthodox Church, Patriarch Kirill, turned to the administration of the President of Russia with a request to coordinate the removal of the icon to the temple for the celebration of the Trinity (the Orthodox celebrate this holiday on June 4).
In response, the Kremlin allowed the church to take the work and after that date, moved it to the Sergius Lavra, the largest Orthodox monastery of the Russian Orthodox Church, located in Sergiy Posada. The icon was there until the beginning of the 20th century, when it was first confiscated to the museum fund, and then transported to Moscow.
The idea of ​​transferring the work from the gallery to the monastery provoked sharp criticism in the museum community. They state that the icon is in a deplorable condition and may be destroyed in the new microclimate. The Commission on the Culture of Ancient and Medieval Rus of the Scientific Council of the Russian Academy of Sciences appealed to the Minister of Culture Olga Lyubimova with a request to prevent the destruction of the "Trinity".
According to Peskov, in the Cathedral of Christ the Savior, a group of specialists will decide on the restoration of Rublev's work; it will start "after a certain time". The head of the expert council of the Moscow Patriarchate on church art, Leonid Kalinin, previously told "Interfax" that one of the lists of "Trinity" could be exhibited in the ХЧС, and the original work was moved to the Lavra immediately, "with preparation, with the calculation for the ages and forever, so that there she found her native harbor."