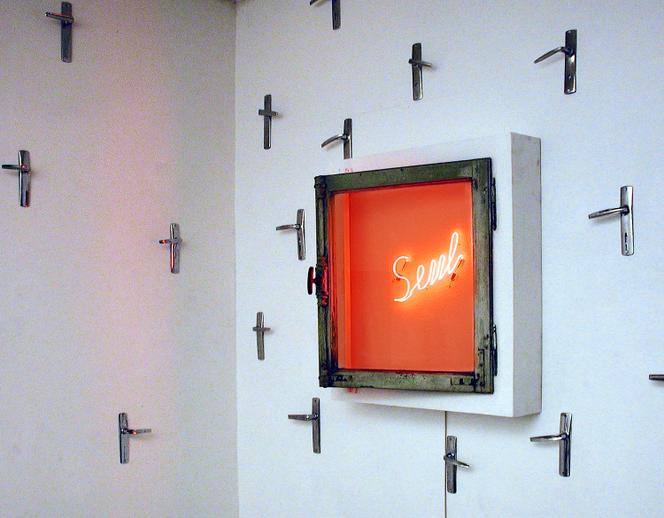 A wall covered in door handles, none of which open, and in the middle flashes the word in neon: " Alone. » The model of a child's room, a cupboard where legal documents are piled up, you have to approach, put on the headphones, to hear in a loop the question once asked by a judge to the little boy: "What time did your father come to your room?" »
From September 7 to 23, at the Galerie Marguerite Milin, in the 3e arrondist of Paris, these works by visual artists Naji Kamouche and Camille Sart will echo those of a dozen other artists, produced on a rare, even unprecedented theme in contemporary art:
abuse of children.
The exhibition is called "Qui ne dit mot…", in reference to the adage " Who is silent consents ". It is subtitled: "A victory against silence. » The word "victory" is not too strong: the contemporary art curator at the origin of the project, Marie Deparis-Yafil, suffered for eight years the refusal of dozens of galleries and museums before finally succeeding in mounting it. .
The "hypocrisy" of the art world
Recognized curator, with more than forty exhibitions to her credit, project manager for two years at the Shoah Memorial, Marie Deparis-Yafil denounces a "hypocrisy" of the art world. "All the institutions claim to be at the forefront of commitment, multiply exhibitions on difficult themes such as violence against women, racism, war… But no one wants to talk about incest. » However, she did not have " no harm ", she said, to find many works "which are situated in a symbolic register, embodying the context or the suffering, and obviously not the acts or the child ography".
The only creation uming a frontal dimension is an image by Cuban photographer Erik Ravelo Suarez, former director of Fabrica, the artistic center of the clothing brand Benetton, in Treviso, Italy. Excerpt from his series The Untouchables " (2013), it represents a little boy crucified on the back of a priest. Photography has already toured the world, but only in the press and on the networks. "pedocriminality in the church, tells the artist, it scared away galleries and museums. The paradox is that I have never had so many positive reactions to a work, coming from people who recognized their suffering in it. »
The gallery owner Marguerite Milin, she claims to have "no hesitation" when Marie Deparis-Yafil presented her project to him a year ago. What convinced her? "The mive nature of this violence", she replies, citing the figures of one in ten child victims. " We are all concerned. Like everyone else, I know victims. I think that the rejection Marie received is linked to this sad banality. There is the fear of bringing out secrets buried in families. »
You have 51.09% of this article left to read. The following is for subscribers only.