the magic sequence on video of Renard in the Saudi dressing room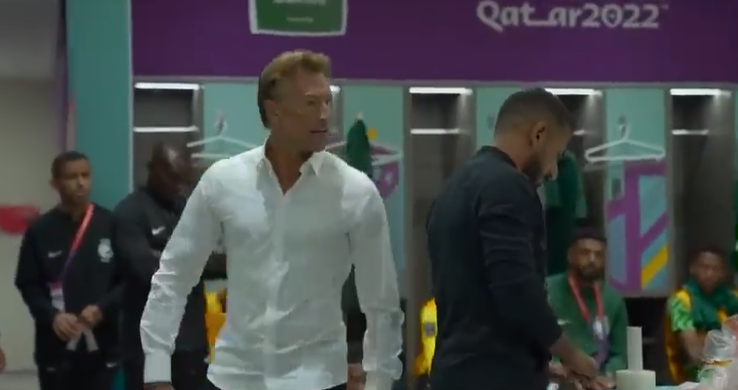 VIDEO – The Saudi federation unveiled the speech of the French coach during half-time against Argentina on Tuesday.
The sequence is magical. To give you chills. Any lover of sport and strong emotions will not take off their screen for two minutes. And she will follow Herve Renard for quite a while. The Saudi federation, proud of the historic victory against Argentina (2-1) Tuesday for his entry into the running in the World Cup, revealed the speech of his French coach.
On this video, which lasts two minutes, we see the 54-year-old French technician, who cannot hold his own, remobilize his players led (0-1) by Lionel Messi's Argentina after a first senseless act unique. Moment chosen by the former technician of Lille or Sochaux, who made his reputation in Africa at the head of many selections, to find the words for a possible reaction of pride. "Take your phone and take a picture with him if you want", he says to one of his players in charge of marking Lionel Messi. Vibe. Focus.
Read alsoWorld Cup: Hervé Renard, a life of football and adventures, discover the French technician who created the first surprise of the World Cup
"Guys, don't you feel that we can come backhe harangues with a French accent in the language of Shakespeare. It's a World Cup, you have to give everything." An extraordinary moment of life when you know that Saudi Arabia will score two goals in the second half, with a completely different face and overthrow one of the favorites for the planetary title.
Read also"Some French media have discovered that I was coach of Saudi Arabia": Hervé Renard sharp after the exploit against Argentina
All the ingredients are in this video. The speech, the words, the gestures, the downcast face of the Saudis, the tone of the translator… And a fabulous scenario on the ground a few minutes later, for a historic victory for Saudi Arabia.
Read alsoSensational Saudi Arabia, crazy atmosphere, sad Messi … The favorites / claw of our special correspondent