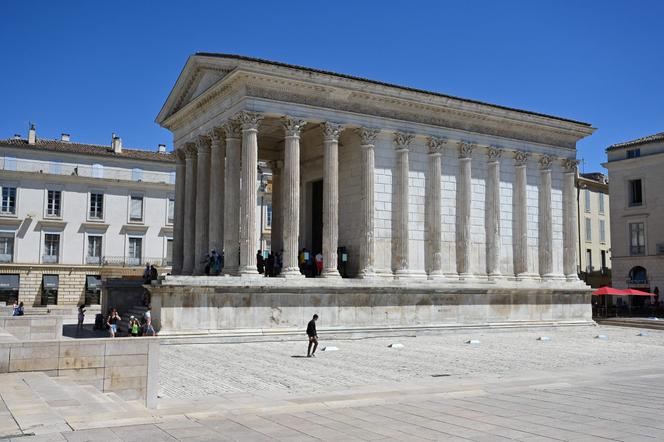 France has obtained the registration of two new sites as UNESCO World Heritage sites. The Maison Carrée of Nîmes, a Roman temple built in the Ier century AD, is the 51st French site to enter the list established by the United Nations Educational, Scientific and Cultural Organization (UNESCO), by a unanimous decision of the World Heritage Committee, meeting in Riyadh, Saudi Arabia, Monday September 18. Mount Pelée and the peaks of northern Martinique had entered the prestigious ranking on Saturday.
The city of Nîmes had long hoped for this recognition. In 2018, it applied for the registration of all the monuments of the ancient Roman colony, an ancient commercial and cultural crossroads which reached its peak under Augustus. The experts were not convinced of the exceptional character of the site, due to the immediate proximity of modern monuments. The southern city has refocused its application on the Maison Carrée, reopened to the public in 2022 after renovation. A winning bet for its mayor, Jean-Paul Fournier, who attended this consecration in Riyadh, moved.
"This decision constitutes the long-awaited recognition of the ancient heritage riches of which the city of Nîmes abounds. It rewards years of work", reacted Mary Bourgade, deputy mayor responsible in particular for ancient heritage. According to the municipality, the World Heritage listing will "generate an increase in tourist numbers" and will be a "real growth lever for the city"with some "significant economic benefits".
Preservation of biodiversity
The exceptional character of the volcanoes and forests of Mount Pelée and the peaks of northern Martinique has also earned them clification by the World Heritage Committee. The experts estimated that " the representation of volcanic elements, materials and processes » gives the site global importance. The Quai d'Orsay welcomed a strong signal in favor of the preservation of biodiversity. Several globally threatened animal species are found on this site, including the Martinique allobate, a very rare frog, the racer snake and the Martinique oriole, an endemic bird.
During this 45th session which is being held in Riyadh until September 25, the World Heritage Committee must evaluate the candidacy of around fifty sites – cultural, natural or mixed. The heritage of the island of Djerba in Tunisia, renowned for its religious diversity and its villages with whitewashed houses, was distinguished. The site includes seven areas and twenty-four monuments, including Carthaginian and Roman ruins, fortified Ibadi mosques, churches and synagogues. The Ghriba synagogue, the oldest in Africa, was the target of an attack in May, during the Jewish pilgrimage, which left five people dead.
You have 44.32% of this article left to read. The rest is reserved for subscribers.