The Mbappé-Giroud festival, the Hernandez concern, the Australian air conditioning … Deschamps' words after the Blues card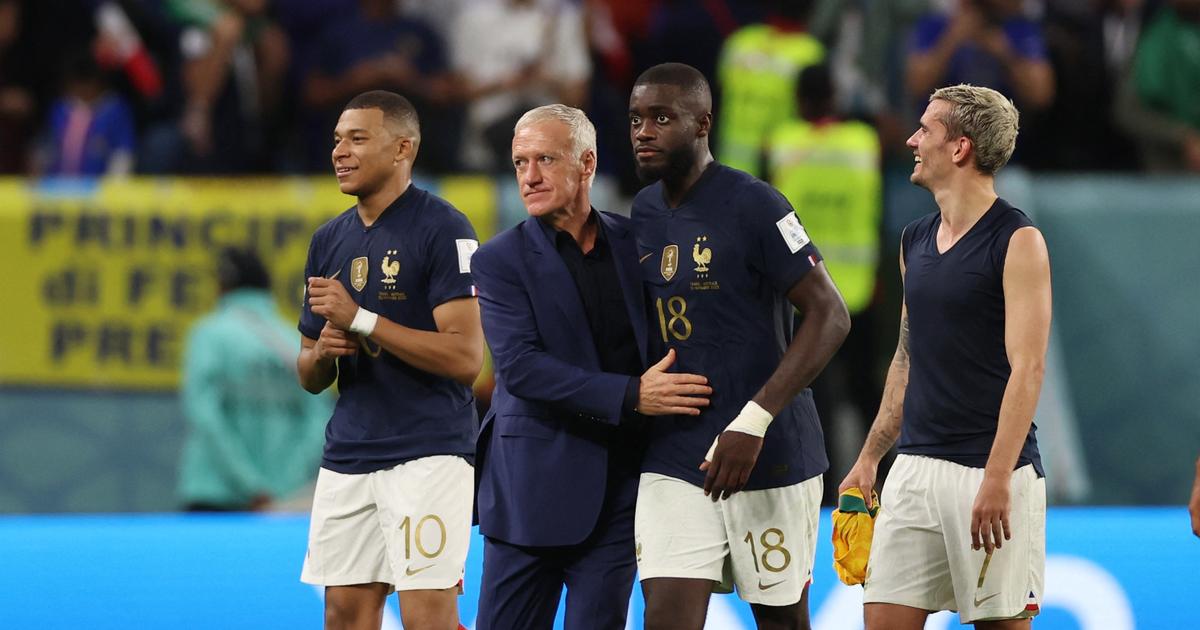 The coach of the Blues answered questions from the media after the success against Australia (4-1) on Tuesday evening.
Special Envoy to Doha
His analysis of the game
"Even if we were put off at the start, we did everything we needed afterwards. In the second half, we could have had an even bigger score, but we did a lot of good things. Certainly Australia left some physicality in the first half. I don't take the credit away from my players, quite the contrary. There is strength and character in this team, with young and old, but the copy overall is of quality. »
The offensive animation of the Blues and the role of Griezmann
"Everything can be improved, Antoine is present too, through everything he has done in his technical accuracy, his volume. He can end up in midfield. It's not a sacrifice, he likes it. We created problems for the opponent, at times we can be out of balance. This animation is also new. When the players are smart and have quality, they speak the same football. Antoine gives balance to the other three attackers, especially when you don't have the ball. »
Read alsoFrance – Australia: no heat stroke for the Blues, easy winners of Australia
Giroud's double and the race for the title of top scorer of the Blues
"He has no weight (compared to Henry's record), me beyond records, it's what he does on the pitch, what he has always done that interests me. He played a very good game and I wanted to manage it by taking him out at the end of the game. He has this efficiency, so much the better for him. Olivier is an important asset in the offensive animation compared to the whole group.
Read alsoWorld Cup: Giroud scores his 51st goal in blue and joins Thierry Henry
Mbappé's XXL performance
"Kylian was already one of the best strikers in the world before this match. He is full of confidence, exudes strength, serenity. I've been talking to him for a while and I knew he was going to be ready because it's his competition. He scores with his head, so much the better, he is part of a collective, as he has always done, even if he has the ability to make differences on his own. Having Kylian at this level is very important for my team. »
His opinion on his hinge
"She is young compared to international experience, although Konaté and Upamecano had already played with us. They played club together in Leipzig, it brings benchmarks. I found them consistent, good in the duel, the use of the ball, they were solid. »
Read alsoThe notes of the Blues against Australia: Mbappé as boss, Giroud in history
The serious injury of Lucas Hernandez
"He is going to do exams, it seems quite serious to me. It will be necessary to confirm anyway, it is the big black point of this evening. I think it's pretty serious. If we want to be quiet, we have to take 33 players and triple the positions. But I will find an alternative (if Lucas Hernandez is forfeited). »
Read also"It seems serious": Deschamps very pessimistic after the injury of Hernandez, another tile for the Blues
World Cup: strong images of France-Australia
The revolt sounded by Rabiot
"He has no pressure, the players don't have any, it's adrenaline. Adrien is doing very good things with us in the France team. With his club, he had a very high performance in recent weeks. So much the better, if he confirms. I had no doubts about his ability and intelligence. He's an intelligent player, with volume, recovers balls, good heading, I stopped him at the end because he wanted to go in front. He would have been there despite the absences. Having Adrien at this level is very important for us. »