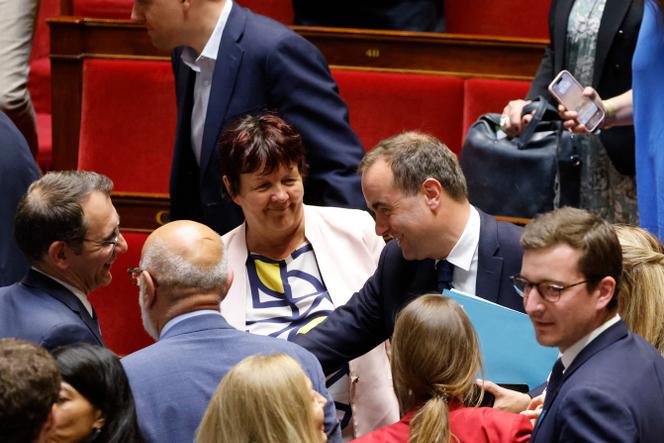 Despite the tensions that continue to grow between the presidential coalition and the opposition on pension reform, the National embly adopted at first reading by a large majority, Thursday, June 7, the military programming law (LPM) for the years 2024-2030. At the end of fifteen days of debate in public session, the text, the aim of which is to "to modernize" the military apparatus, was voted with 408 votes for and 87 against.
In addition to the presidential coalition – Renaissance, MoDem and Horizons – this army budget of 413 billion euros spread over seven years has received the consent of the National Rally (RN), the Les Républicains (LR) party and the motley group Libertés , independent, overseas and territories. On the left, if the "rebellious" and the Communists voted against, the Socialists and the Ecologists abstained.
For the presidential camp, this election is the demonstration that it can still manage to build majorities text by text in a Hemicycle still punctuated by the parliamentary battle on pension reform. Like the final adoption, on April 13, of the bill on the Olympic Games and then, on May 16, of the text aimed at accelerating the construction of nuclear reactors.
It is also a political victory for the Minister for the Armed Forces, Sébastien Lecornu, whose " the respect " And "listening" during the debates and the taking into account of the amendments of the oppositions – a hundred adopted – were welcomed by several speakers, Wednesday afternoon during the explanations of vote. In order to ensure the grain to the end, the Minister of the Armed Forces went so far as to cancel, at the last minute, his trip to the Shangri-La Dialogue – the annual forum on Indo-Pacific security which took place from June 2 to 4, in Singapore – in a context of strong Sino-American tensions and normally constitutes an unmissable meeting for a Minister of Defense.
Drastic capacity choices
For the "rebellious" deputy from Hauts-de-Seine, Aurélien Saintoul, the Minister of the Armed Forces, ex-LR, "has created the conditions for a dignified and well-argued debate which allows us to take note of convergences as well as disagreements, without any bias or infamous remarks". "You should explain, minister, what parliamentary democracy is to your colleagues Darmanin, Le Maire, Dussopt or other Dupond-Moretti. And if I dared, you should also tutor Mme Thick headed "quipped, from the tribune of the Hemicycle, the elected RN of Moselle, Laurent Jacobelli.
You have 63.49% of this article left to read. The following is for subscribers only.