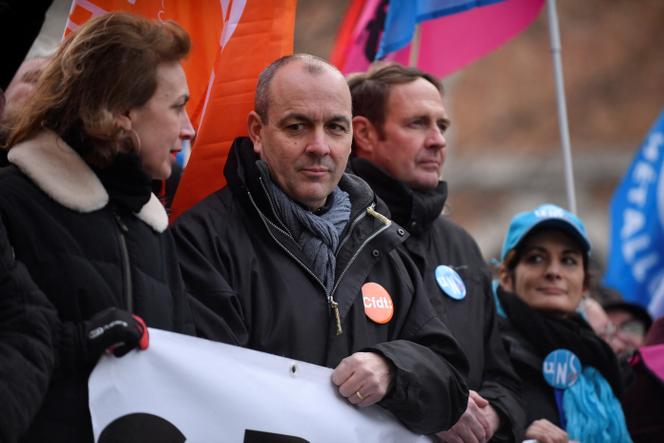 He joined a bank after being at the forefront of the social movement against pension reform. At WorldLaurent Berger explains the reasons for his hiring by Crédit Mutuel, which the financial institution announced on Tuesday, September 12, by unveiling a " strategic plan ". The former general secretary of the CFDT, who handed over control of the cedetist central, on June 21, to Marylise Léonwill be responsible from Friday for building a think tank focused on the protection of ecosystems and the fight against global warming.
For the moment, he no longer wants to give his opinion on Emmanuel Macron – with whom relations had notoriously deteriorated – or on the resumption of dialogue between the executive and employee organizations. "I am focused on my new mission at Crédit Mutuel, enthusiastic like a kid", he confides. But his media sobriety cure is by no means permanent.
Since leaving the head of the CFDT, Mr. Berger says he has received "around fifteen serious job offers", coming from companies but also from local authorities and ociations. Its choice ultimately fell on Crédit Mutuel Alliance Fédérale – the main entity of the Crédit Mutuel group – "because it is a mutual bank, part of the social and solidarity economy sector, which is developing a real strategy to contribute to a socially just ecological transition".
Its task will consist of designing and then piloting a "center of expertise dedicated to the climate and environmental revolution". The objective is to produce "data so that the company can develop its practices and participate" actions aimed at reducing greenhouse gas emissions. The former union leader will work with Crédit Mutuel teams but also with the academic world, non-governmental organizations and representatives of civil society. He will be placed directly with Daniel Baal, the general manager of Crédit Mutuel Alliance Fédérale, "which is a further sign of the group's desire to move forward on these issues", according to Mr. Berger. The structure in question should be operational in spring 2024, if everything goes according to plan.
"I believe in this model"
The former trade unionist therefore radically changes his profession, his world and his status – with a boss above him, even though he had been the boss for eleven years. But his reconversion, he emphasizes, "is in tune with the fighting" that he led when he headed the CFDT. These fights, he adds, "I wanted to pursue them" : "It's a challenge, of course, which causes stress because I have a lot to discover, but I believe in this model. »
You have 27.45% of this article left to read. The rest is reserved for subscribers.