The orchestra played in Clifton and in Garfield, NJ
Janusz M. Szlechta
On Saturday, January 28, at 6 pm, at the DingBatz club in Clifton, NJ, the jubilee 20th Rock Orchestra began. It went down in history as one of the most successful. The atmosphere was unusual, dreamed of by fans of extreme music.
8 stars of underground music played: Fragile Fears, Prime Prophecy, SYN, Raggedy, One Of Seven, Beneath the Green, Menace and the Hellfire and finally The Faulted.
"DingBatz Club has not seen such crowds in a long time. We managed to raise over $14,000. This is a sensational result," Marcin "Bubell" Filipowski told "Nowy Dziennik".
On Sunday, January 29, the Family Final of the Great Orchestra of Christmas Charity started at 12:30 pm at Klub Wisła in Garfield, NJ. It was led by Iwetta Szubert, supported by wonderful volunteers and guests. She was accompanied by… Jurek Owsiak. This character was brilliantly portrayed – for the third time in a row – by Jacek Zaleski. Everyone could watch the live coverage on Facebook thanks to the great work of Radek Piekarz and Janusz Grygus.
The turnout exceeded our wildest expectations. Whole families came. The children were happy because they had a place to play and many attractions awaited them.
Aneta Pieróg-Sudoł, the owner of Rustic Square Art Studio, was a great teacher of art classes for children. They learned to paint with watercolors, sculpt in ceramic clay and cut and glue colorful pictures. In addition, Karolina Gołębiowska painted the faces of the youngest, while Ewa Szwed arranged wonderful hairstyles for both mothers and their daughters. I don't think there was a single woman whose hair she wouldn't comb.
The participants of the final were moved to dance by members of Unique Moments Entertainment: Tomasz Chmielewski, who played the saxophone, Sebastian Stopka on the violin and DJ Kamil Przygodzki. Then Paweł Tokarz appeared on the stage. He sang well-known Polish hits, and when his 12-year-old son Damian joined him, they gave a really great concert. They sang, among others: "How are you, darling" – a hit by the Happy End group, "W siną dal" – a song that Iga Cembrzyńska and Bohdan Łazuka sang years ago and "Jej eyes blue" – a song by VaBank.
After them, two bands appeared on the stage: 15 PO and Wehikuł Czasu with the reliable vocalist Zbyszek Dera. These were great concerts that will surely be remembered for a long time. Especially the latter, because the Time Machine recalled the hits of the Dżem group: "Only moments are beautiful in life", "Letter to M.", "Sleepwalkers" and "Red like a brick". Many people stood in front of the stage, swayed to the music and sang along with the band.
At some point, Mariola Baruk, a participant in the fourth edition of the "Sanatorium of Love", started dancing on the dance floor. This program has been broadcast on Telewizja Polska since 2019 and has enjoyed great interest from the beginning. "Sanatorium of love" is a program that breaks the spell of old age and shows that the autumn of life can have different faces, much different from stereotypical ideas. In each edition, a dozen or so seniors come to the sanatorium to gain new experiences. For several weeks, the viewers observe how the participants establish new relationships, how a friendship is born between them, which sometimes turns into a deeper feeling. Mariola Baruk danced with Wojtek Nowakowski.
The bands of the Children of PRL and Sova were also supposed to perform, but … it was not possible because there was no time.
The lottery, during which interesting prizes could be won, as well as auctions, aroused great emotions. They were led by Iwetta Szubert, supported by Tomasz Chmielewski, Zbyszek Dera, Beata Bojar, Katarzyna Wdowiak and other volunteers. During the first auction, Jacek Zaleski bought 3 gold coins from Poland for $700. One of the motorbike enthusiasts, a member of the Husaria RC group, bought the gloves of the famous Polish boxer Tomasz Adamek with his signature for $200. Jarek bought a T-shirt with the GOCC logo and Jurek Owsiak's signature for $200. Jurek Owsiak's portrait, painted by Roman W. of Garfield, NJ, sold for $70.
Once again, we have seen that both those who donated many wonderful gifts for the lottery and auction, as well as those who bought these things – have huge hearts!
No one was hungry, because hot and cold snacks were funded by Polish stores Piast and Bratek in Garfield and the bakery Tomi Bakery in Passiac, NJ.
After the end of the final, a group of volunteers sat on the floor to count how much money was raised that day. It took a while. The amount collected is $14,446. This is less than last year – 23,000 were collected then – but it is still a reason to be happy.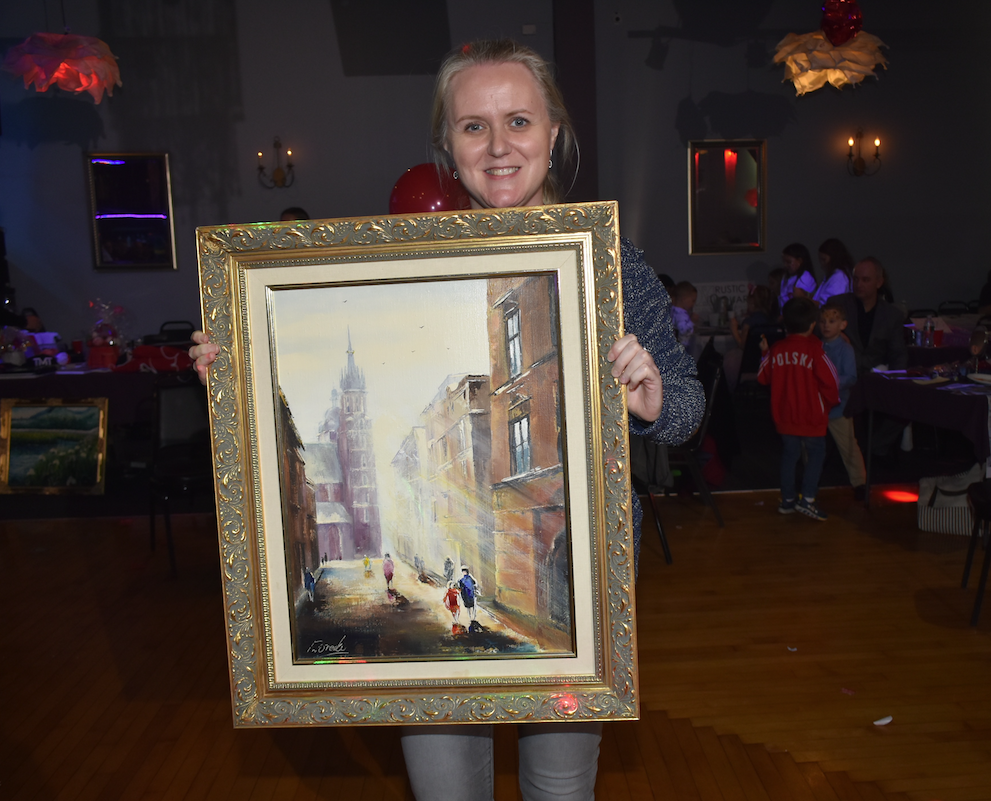 "The event was a success, everyone had a great time. I am happy with another success. Just like Jurek Owsiak, I would like us to play until the end of the world and one day longer!" – Iwetta Szubert told "Nowy Dziennik".
"I have been associated with the Great Orchestra for 5 years. I like to impersonate various characters, so I became … Jurek Owsiak. Some people, looking at me, say that Owsiak really came to the United States. I noticed that people, seeing me as Owsiak, willingly throw money into the can, they are also willing to take pictures with me. I feel very good about it, because I know that I help Jurek, and above all, I help children," emphasized Jacek Zaleski.
All the volunteers did a great job! The WOŚP NJ/NY staff would like to thank all the participants of the 31st Final and the wonderful volunteers. Of course, I would also like to thank the board of Wisła Club very much for making the room available, for support and playing together.
On Saturday, January 28, the Great Orchestra played in Washington DC, led by the "Bublla" ministaff.
The article The orchestra played in Clifton and Garfield, NJ comes from Nowy Dziennik.