The President of Poland called the destruction of the Nord Streams "useful"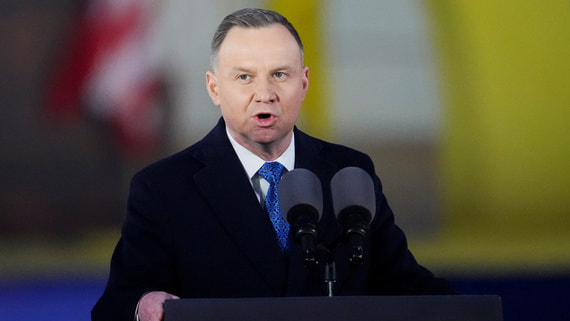 The destruction of Nord Stream is "useful and beneficial for Europe," Polish President Andrzej Duda said in an interview with CNN.
"I don't know if it's possible to say that it was a pro-Ukrainian sabotage. But I will say that if Nord Stream ceases to exist and it will not be possible to supply gas to Europe through it, then it will be beneficial for Europe, it will be useful," Duda said.
The Polish president added that Russia allegedly used gas supplies to "dominate Europe." "I am calmly awaiting the results of the investigation. I hope that in the future we will find out who is responsible for these actions," he concluded.
On March 7, The New York Times reported on the emergence of new US intelligence, which refers to the involvement of a pro-Ukrainian group in sabotage at Nord Stream. Sources of the newspaper among American officials specified that Washington had no evidence of involvement in the blowing up of pipelines by Ukrainian President Volodymyr Zelensky and his subordinates.
Later that day, the German newspaper Zeit, citing a German investigation, stated that a Ukrainian ship, on which traces of explosives were found, could be involved in the sabotage. According to the newspaper, the yacht was rented in Poland, and the company that owns it is owned by two Ukrainians who rented it out. Six people involved in the bombing used fake passports for rent, the publication specified.
On March 8, German Defense Minister Boris Pistorius said that he had read with great interest new reports of pipeline explosions, but did not believe that these publications should affect military assistance to Ukraine.
On the same day, the press secretary of the President of Russia, Dmitry Peskov, called "a coordinated stuffing in the media" new data on the explosions of the Nord Streams. According to Peskov, "the authors of the attack want to divert attention" from the US participation in the organization of sabotage on pipelines. "This is not just weird. This smells like a heinous crime. At a minimum, the countries that are shareholders of the streams and the UN should demand an urgent, transparent investigation with the participation of all who can shed light," the spokesman said.