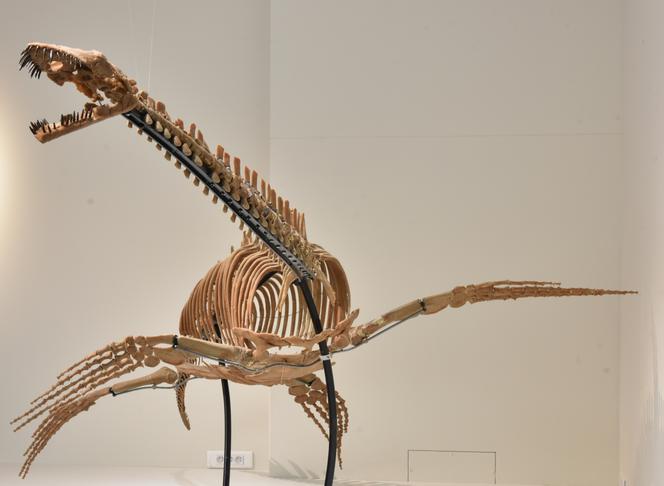 At that time, Europe was an archipelago and, from France, emerged only the Mif Central, the Armorican Mif and the Vosges. Dinosaurs ruled the land and sea reptiles ruled the oceans. It was in the Juric, one of the three great periods, with the Triic and the Cretaceous, forming the Mesozoic, which was formerly called the secondary era (from − 252 million years to − 66 million years). The sea that then bordered our coasts, shallow, was populated in particular by elasmosaurs, a marine reptile that could measure up to 12 meters and weigh more than 2 tons, with a neck representing more than half of its body and a head. relatively small allowing it to eat only fish, ammonites and squid.
About 165 million years later, in 1864, in Saint-Rémy-du-Val (Sarthe), 30 kilometers from Le Mans, road works brought to light the remains of one of them. Although damaged and very incomplete (about fifty vertebrae, a few ribs and bone fragments at the level of the fins were found), it was then the most complete marine reptile discovered in France and it remains an important milestone in evolution. of this family.
This skeleton, 5 meters long, is today the major piece of an exhibition, presented at the Green Museum of Le Mans, entitled "Giants, in the time of dinosaurs". It was the subject of a major intervention aimed at completing it, carried out by Sylvain Duffaud, a paleontologist specializing in vertebrates and a restorer. To do this, he went to the Museum of Millau and the Grands Causses (Aveyron) where another elasmosaur from the same period is exhibited, almost whole but smaller (4 meters), discovered in the 1990s. scanned each bone of the animal which he then scaled on the advice of Peggy Vincent, paleontologist, specialist in marine reptiles. The skull being totally crushed, he virtually "uncrushed" it and "recovered" a few teeth which allowed him to resculpt his teeth.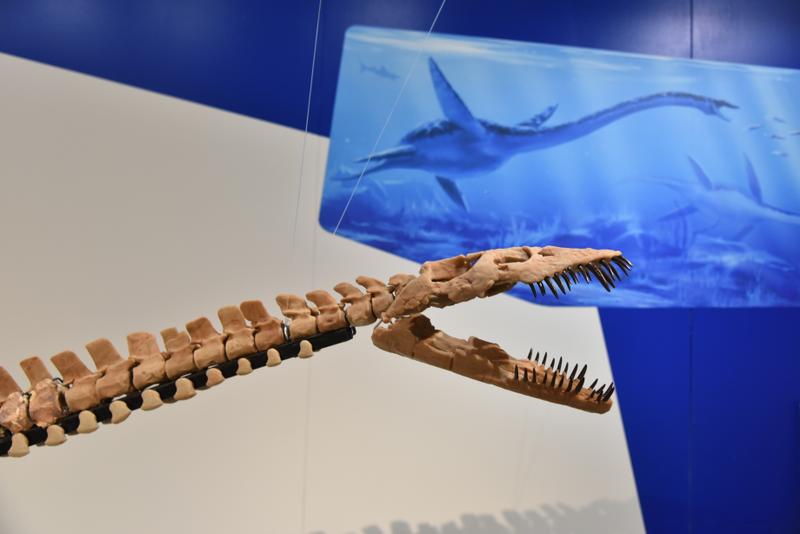 "Slimmer than we thought"
After also scanning the Le Mans specimen and performing a comparison computer between the two skeletons, he printed the missing elements by photopolymerization (a process that consists of solidifying liquid resin using UV light). He thus obtained an accuracy of 50 micrometers. A slight variation in color makes it possible to differentiate the original bones from those which have been printed. This mission, which required Sylvain Duffaud six months of full-time work, made it possible in particular to confirm that the animal was smaller than it was usually represented. "He was more slender than we thought., even if we already had clues. It is not a discovery but, all the same, a small surprise »underlines the paleontologist.
You have 23.43% of this article left to read. The following is for subscribers only.