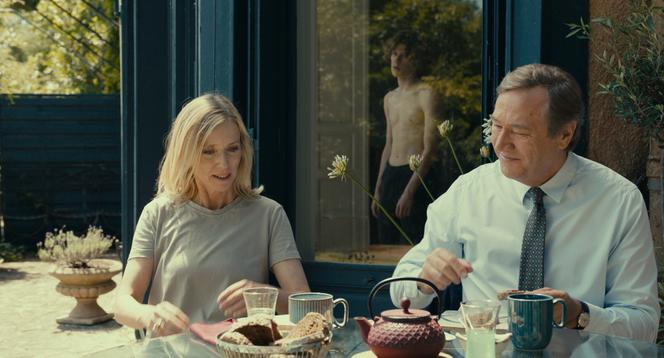 We no longer thought imaginable a return of Catherine Breillat – immense French filmmaker, fiery temperament and intelligence – on the front of the stage. Victim in 2005 of a cerebrovascular accident which left her hemiplegic, she was the victim, during her convalescence, of the crook Christophe Rocancourt, who extorted several hundred thousand euros from her. From this double fatality, from this loneliness also no doubt, she drew a book in 2009, Abuse of weaknessthen, in 2014, a movie of the same name. The part being given to the romantic, Kool Shen camped there Rocancourt, Isabelle Huppert the filmmaker. We find there the Breillat signature, his courage, his overwhelming lucidity.
But the ten years that followed left us without news of her, we thought she was lost. It was counting without the survivability of this woman, aged 74 today, who returns with Last summer, a film as brilliant and cutting as the diamond, its most beautiful perhaps. The general delegate of the Cannes Film Festival, Thierry Frémaux, made no mistake about it, who selected it in competition, something suggesting that the president of the jury, the Swedish barbarian Ruben Ostlundcould appreciate the unseemly savagery of her colleague.
Because it is better to announce it, with Last summer, presented on the Croisette on Thursday May 25, with a deceptively climatic title, it's the return of hell to earth. In the operations of this reactivation, producer Said Ben Said, whose choices, as we no longer ignore, illustrate a taste for cinema (David Cronenberg, Brian De Palma, Paul Verhoeven, etc.) rather far removed from contemporary hygiene. Master in the reboot suspended geniuses of the seventh art, it was he who discovered Danish film Dronningen, directed in 2019 by director May el-Toukhy, and immediately offered Catherine Breillat to make a remake of it. Rich idea.
The copy, which topples the model, features a lawyer specializing in ault cases, who will live an unspeakable pion with her stepson, a handsome, rebellious teenager, while his father, after several years of estrangement, has just welcomed him under his roof. Marie Drucker, Olivier Rabourdin, Samuel Kircher, Clotilde Courau – the first transfigured, "Hitchian"underlines Breillat, all admirable – carnally turn this desiring machine.
Transgression of the prohibition
We can obviously count on Catherine Breillat to rekindle the fire by pretending to put it out: "It's a pseudo-incest that happens almost inadvertently. It wouldn't matter if the young man didn't fall in love. » Tenants of moral comfort, go your way. Here comes the torch that sheds light – not to say that it kindles them – the dark desires that torment us and the fatal alienation that strikes them. Suffice to say that Breillat works on an area little frequented by French cinema, which, faithful to the national tradition, only conceives of desire articulated to the strategies of reason and language (conquest, ruse, pretense).
You have 68.19% of this article left to read. The following is for subscribers only.