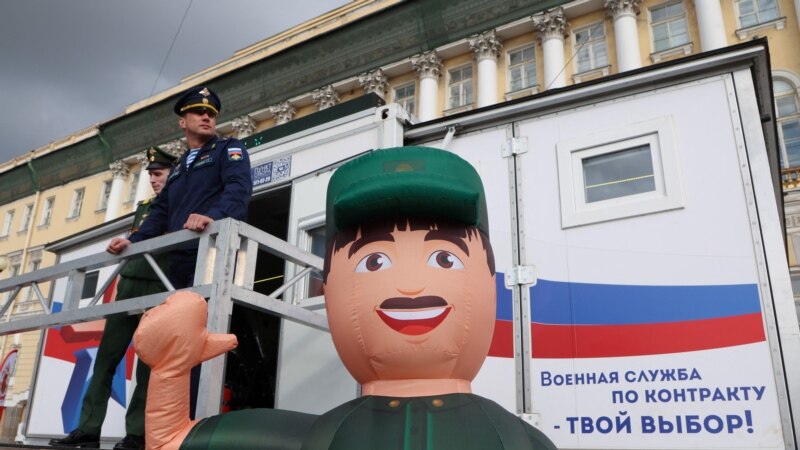 Russian authorities are trying to recruit citizens of neighboring countries to participate in the war in Ukraine – writes in its daily review, the military intelligence of the Ministry of Defense of Great Britain.
As stated in the message, in particular, at the end of June, online adver were distributed in Armenia and Kazakhstan for those wishing to join the contract service in the Russian army. At the same time, a one-time payment of 495 thousand rubles was promised, and in the future a monthly salary of 190 thousand. Recruiters were active in the Kostanay region in the north of Kazakhstan, where a significant number of ethnic Russians live.
Also, as noted in the message, at least since May 2023, the Russian authorities are also making efforts to recruit migrants from the countries of Central Asia into the army. They are promised a high salary, as well as simplified acquisition of Russian citizenship. At the same time, it is claimed, in particular, in occupied Mariupol, the Russian authorities seized the pports of construction workers from Uzbekistan and forced them to sign contracts with the army.
"Russia probably wants to avoid further unpopular measures related to mobilization in the run-up to the 2024 presidential elections. The use of foreign nationals allows the Kremlin to attract additional human resources for its military operations in the face of growing losses," said the British intelligence report. It does not say how many foreigners, in her estimation, managed to attract to serve in the Russian army.
It became known last year that foreign citizens, primarily from the countries of Central Asia, are accepted for contract service in the army. In October, two citizens of Tajikistan, under unclear circumstances who ended up in the army, staged a shooting at the training ground, killing and wounding more than ten mobilized. The countries of Central Asia appeal to their citizens not to enter into contracts. The number of foreigners recruited into the Russian army is unknown.
Deputy Chairman of the Security Council of Russia, Dmitry Medvedev, on Sunday, referring to the Ministry of Defense, said that since the beginning of the year, 280,000 people have joined the army for contract service.
The so-called partial mobilization was announced in Russia last September. According to official data, more than 300 thousand people were called. Currently, there is no active call for mobilization, but the decree about it has not been canceled. Commentators argue about whether there will be a new wave of mobilization in Russia – some argue that it cannot be avoided due to losses at the front, others believe that the Russian authorities are trying to do without mobilization at the expense of recruiting foreigners, prisoners, increasing payments to volunteers, "hidden "mobilization through state corporations.