the sailors of the first round the world in Ultim will be able to play "ghosts"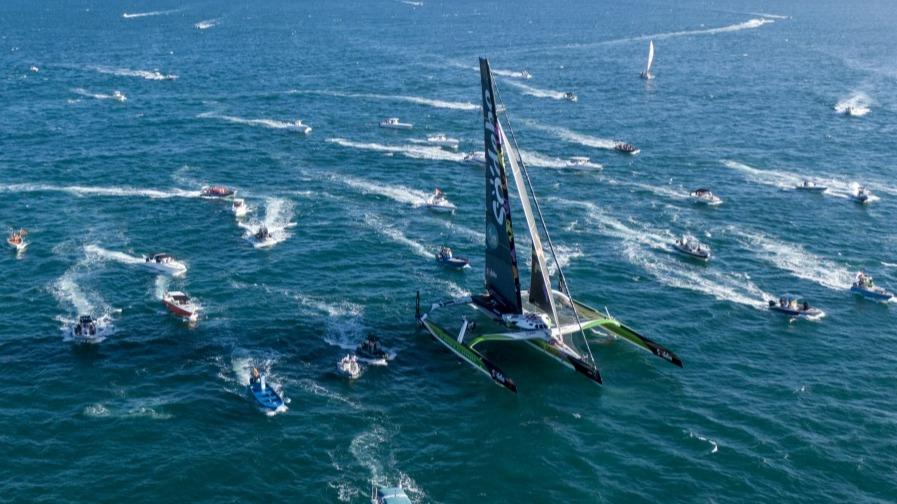 The notice of race for the new solo round the world event reserved for flying monsters from January 2024 revealed some surprises.
It is expected, highly anticipated even. The first solo circumnavigation reserved for Ultims trimarans, these 32-meter flying monsters, will set off on January 7, 2024 off Brest. And this Monday, its notice of race which sets the main rules was unveiled by the organizing company Oc Sport Pen Duick. Confirming the start date of the Arkea Ultim Challenge – Brest, this notice of race lists over 26 pages the various obligations, and in all areas, for this new planetary meeting.
Regarding the essentials to remember, and first of all the physiognomy of the course, no surprise: this round the world will start outside the harbor of Brest to also end there after having doubled the Capes of Good Hope , Leeuwin and Horn, exactly like the Vendée Globe contested in monohulls. " Each sailor must complete a qualification course of at least 2,500 nautical miles", also details Guillaume Rottée, the race director, knowing that the deadline for registration of registration requests is set for May 31, 2023, the final list of boats taking the start being published no later than June 5, 2023. . " The minimum number of boats at the start for the event to take place is set at four. The maximum number is limited to eight. A replacement skipper is also mandatory for each boat. "says Guillaume Rottée.
Five sailors on the start
If to date, five sailors (and their team) have validated their participation in this new circumnavigation (Charles Caudrelier with Maxi Edmond de Rothschild, Thomas Coville with Sodebo Ultim 3, Armel Le Cléach with Maxi Banque Populaire XI, Anthony Marchand with Actual Ultim 3 and Éric Péron with Ultim Sailing), two of them (Marchand and Péron) still have to go through the qualification box. And uncertainty remains of course concerning the case of François Gabart, second in the last Route du rhum, at war with the Ultim class over the compliance of his trimaran SVR -Lazartigue for months. After a period of extreme tension, discussions are said to be underway to find an agreement allowing her to take part in this revolutionary race after an almost certain visit to the yard.
A ghost mode
Another essential point of the notice of race, the skippers will be able to activate twice in the race a "Ghost" mode ("ghost") which will allow them "within a perimeter of less than 500 miles from the start or finish lineto disappear from the radar, and therefore from the eyes of their rivals, for 24 hours. Just to try decisive options.
Regarding technical stops, unfortunately sometimes essential to hope to finish the race within 100 days after the start, they will be authorized "docked in a port, at anchor or at cape» but they will last a minimum of 24 hours and any outside assistance will be prohibited. "Clearly, any human and/or technological intervention outside the boat allowing remote action on one or more element(s), equipment(s), or settings of the boat in place of the navigator will be prohibited.", concludes the notice of race of this extraordinary round the world which makes both sailors and landowners salivate…
SEE ALSO – Route du Rhum: "It was an almost perfect race", smiles Charles Caudrelier with emotion