The Saviors, seven animal advocates who made a difference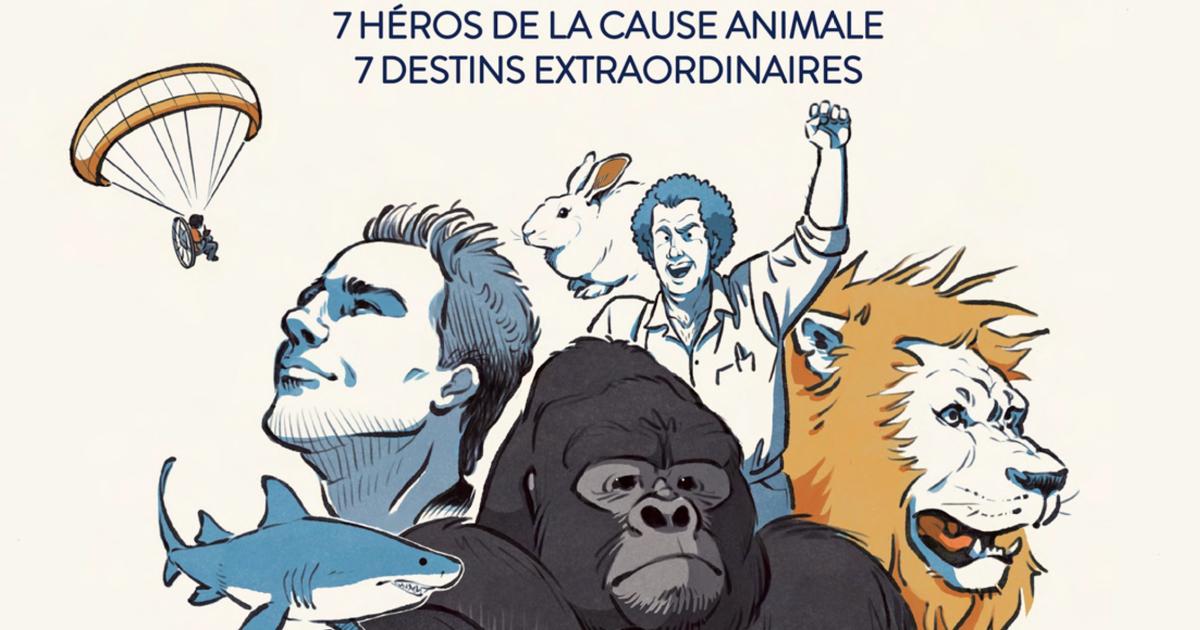 CRITICAL - The first graphic novel from Deman editions tells the extraordinary – and sometimes tragic – destinies of animal rights activists. Accessible and inspiring.
Natural disasters and summer heat waves have been cruel illustrations of the gravity of the climate crisis. The global decline in biodiversity and the threat of a sixth mass extinction complete this anxiety-provoking picture, often generating a feeling of powerlessness. What could be done to help protect the most threatened or abused animals? Far from being discouraged, some have decided to roll up their sleeves...
Read alsoBiodiversity: Europe raises its ambition for the protection of nature
Published Wednesday, September 14 by Deman editions, the comic strip The Saviors draws a portrait of "7 heroes of the animal cause" of yesterday and today. Their common point? Have succeeded in significantly improving the living conditions of the creatures they have chosen to defend (sharks, great apes, zoo residents, farm animals...).
The case of Henry Spira is emblematic: this Belgian-American managed in 1980 to convince the multinational cosmetics company Revlon to subsidize an alternative to the Draize test which "consists of injecting substances into the eyes of rabbits to measure the effects on humans", before doing "bend giants like McDonald's and KFC, forcing them to incorporate animal welfare into their specifications". The "Spira method" – respecting your opponent and encouraging him to change his behavior – is now being studied in universities.
In their fight for the defense of animals, these "saviors" sometimes put their lives in danger. This is for example the case ofAmir Khalil, Egyptian war vet who notably exfiltrated the dying lion and bear from the Mosul zoo in 2017, when Daesh still controlled part of the city. Famous American Dian Fossey dedicated her life to gorillas before being assassinated in 1985 in Rwanda, at the age of 53, probably by poachers. As for the Canadian Rob Stewart, if he rubbed shoulders with the Taiwanese mafia in his fight against the trafficking of shark fins. It is finally a diving accident that will have its skin in 2017. He was 37 years old.
It's up to each of us to unleash our desire to change the world

Yann Arthus-Bertrand
The comic strip, which is intended for the general public, takes the time to evoke the childhood of its characters and the trigger of their militant commitment. For Sébastien Arsac, co-founder with Brigitte Gothière of the L214 association, which notably denounces mistreatment in slaughterhouses, it will be the slaughter of a pig at his grandparents breeders. For Aurélien Brulé, third Frenchman in comics, slayer of deforestation and defenders of gibbons, awareness will take place by preventing a Provençal hunter from bringing down his prey. This sense of story makes The Saviors engaging and accessible, even if it means romanticizing a little. An effort supported by a legible and color-sparing design (a single shade per story, punctually enhanced with orange), as well as a pleasant large format of 27.7 x 20.2 cm.
These inspiring portraits show that with determination, pragmatism and a healthy dose of courage, it is possible to save thousands of animals. What arouse new vocations? "It's up to each of us to unleash our desire to change the world, valued Yann Arthus-Bertrand in the preface. We have this duty and this mission."
The Saviors, by Chhuy-ing Ia (drawing), Fabien Morin, Julien Derain and Laurent Hopman (screenplay), Deman Éditions, 152 pages, 21.50 euros.