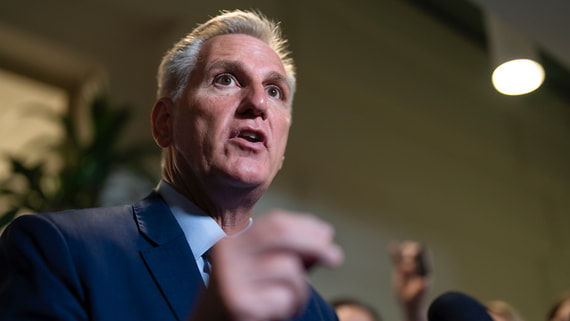 Speaker of the House of Representatives Kevin McCarthy said that he is not going to promise Ukrainian President Vladimir Zelensky a new package of financial istance to Kyiv.
One of the journalists asked the politician whether he would take on financial obligations at a meeting with the Ukrainian president.
"Has Zelensky been elected to Congress? Is he our president? I'm not going to promise anything. I have questions for him: where is the reporting for the money that we have already spent, what is the plan to achieve victory," RIA Novosti quotes him as saying.
According to McCarthy, the answers to these questions are of interest to American society.
In August, it became known that US President Joe Biden sent a request to the US Congress to allocate another $24 billion to help Ukraine. Of these funds, $13 billion was requested for military istance, and another $7.3 billion for economic and humanitarian istance to Kyiv. Biden also requested $3.3 billion in infrastructure funding in other countries and $4 billion in border security funding. This brings the total request to almost $40 billion, including $12 billion for disaster relief.
According to the Pentagon, since the beginning of Russia's special operation in Ukraine, Washington has allocated a total of more than $43 billion to Kyiv for military istance. In total, The Washington Post noted, Kyiv has received about $66.2 billion in US military, financial and humanitarian aid since February 24 last year, which is the largest amount of support that Washington has allocated to another country since World War II.
On September 7, Washington announced the allocation of another package of military istance to Ukraine for $600 million, which included missiles and equipment to support the operation of air defense systems, shells for HIMARS MLRS, 105-mm artillery shells, equipment for electronic warfare, mine clearance equipment, etc.
Moscow has repeatedly criticized the supply of Western weapons to Kyiv and pointed to the growing direct and indirect involvement of Western countries in the conflict in Ukraine. The authorities pointed to an attempt by the West to prolong the conflict by supplying arms to Ukraine.