Law enforcement officers searched the apartment and studio of street art artist Philippenzo (Filippa Kozlova). This was reported by the correspondent of "Polygon.Media".
According to the publication, investigative actions are related to a criminal case under the article on vandalism motivated by political hatred. The reason for this could be the last work of the artist "Izrossilovanie".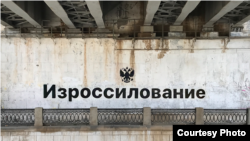 On June 12, Russia Day, Philippenzo published a photo of his new work: a large inscription "Izrossilovanie" and the coat of arms of Russia under the bridge on the Yauza Embankment in Moscow. "What this country is doing today cannot be called another word," he wrote on the Telegram channel.
In the spring of 2022, Kozlov was brought to administrative responsibility because of the graffiti "Our zinc" with the image of graves. The artist was fined three times under the article on discrediting the army.
On July 29, Philippenzo flew to Russia from Georgia, after which he was detained at Moscow's Domodedovo airport. Police officers claimed that he refused to give them his pport. Later, the court arrested Kozlov for 15 days and found him guilty of disobeying the police. On August 11, the court again sentenced the artist to 15 days of arrest under the same article.