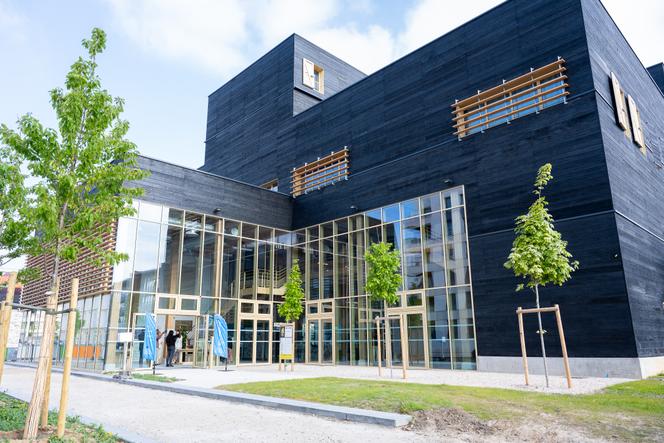 A newcomer is entering the French Catholic intellectual landscape. The Teilhard de Chardin Center is giving its first conference this Thursday, September 21. Launched jointly by four dioceses of Ile-de-France (Evry – Corbeil-Essonnes, Paris, Nanterre, Versailles) and the Society of Jesus (Jesuits), this new structure located on the campus of Paris-Saclay University aims to offer a space for dialogue between science, philosophy and spirituality.
Open to students, researchers, theologians as well as all those pionate about questions relating to the relationship between faith and reason, but also between ethics and scientific advances, the Center Teilhard de Chardin, named after this French scientist and Jesuit priest from the beginning of the last century (1881-1955), also offers a space for healing and prayer to students on campus as well as a chaplaincy service.
A return to school with artificial intelligence
As a space for reflection and training, the center is part of the desire of the Catholic Church to create spaces for multidisciplinary dialogue in Ile-de-France, in the tradition of the Collège des Bernardins, the Catholic Institute of Paris or Center Sèvres, stronghold of French Jesuit intellectual production, with which it will offer joint events.
Spread over 1,600 square meters, the Teilhard de Chardin Center includes a hemp concrete chapel covered with raw earth as well as a large hall intended for conferences, seminars and days of debates. Other rooms are also made available to chaplaincies, who can meet there several times a week.
Concretely, the Teilhard de Chardin Center offers a conference every month in the large hall of the center, which will be led by one of the members of the scientific council, made up of physicists, philosophers, theologians and even a specialist in cyberintelligence . Those wishing to participate can register for free on the center's website, or follow the broadcast online.
Led by Eric Charmetant (philosopher and theologian) and Philippe Trouchaud (cyberintelligence manager at PwC France), the first conference focuses on the evolution of human work in the age of artificial intelligence. The effectiveness of conversational software like ChatGPT (OpenAI) or Bard (Google) "asks real questions about the vvalue of human thought »underlines Dominique Degoul, director of the center, according to whom " a third of jobs intellectuals are currently under threat".
You have 65.49% of this article left to read. The rest is reserved for subscribers.