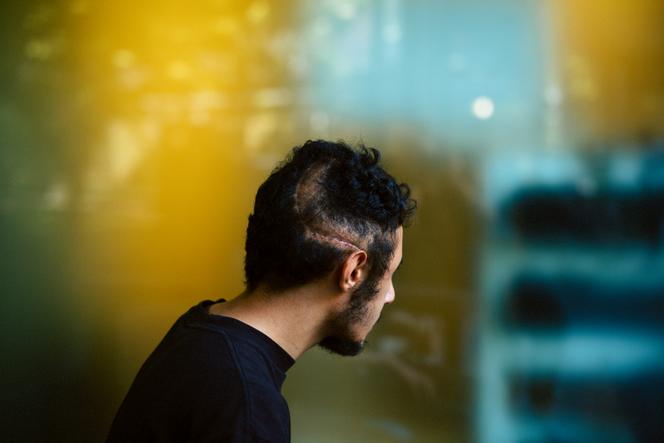 Sofiane, 22, had part of her skull amputated. An emergency craniectomy performed on the morning of June 30 to deal with a hematoma deemed "bulky" by the doctors of the Pitié-Salpêtrière hospital in Paris, and which posed a risk of death or irreversible neurological damage due to the compression of the brain.
After several days of artificial coma, three weeks spent in the hospital in the neurosurgery department, the young man is still being treated in a specialized clinic in the northern suburbs of Paris. With the prospect of a surgical operation to place a prosthesis, followed by a long rehabilitation. "I'm trying to hold on, I'm in pain, I'm extremely tired, I have trouble walking. I'm not sure I'll recover 100% of my abilities", said the young man, the skull marked by a scar. He speaks with an umed name to avoid possible repercussions on his family and on his career because of his testimony.
On the right part of his face, at eye level, a round mark of a few square centimeters. It is there, according to his account, delivered to the World on August 16 in the garden of the clinic as well as in front of the general inspectorate of the national police (IGPN) who came to his room on July 31, that a projectile fired by a police officer would have hit him, on the night of Thursday 29 to Friday, June 30, in the 19e district of Paris, while urban violence took place in a large number of cities in reaction to the death of Nahel M., killed by a policeman in Nanterre on June 27. "I recognized an LBD [lanceur de balles de défense] before being hit"he says, mimicking the weapon and the way a policeman held him in front of him.
No witnesses
"He was the victim of a point-blank LBD shot in the right temple"indicates the complaint filed in his name by the lawyer Aïnoha Pascual. "The preliminary investigation continues"reports the Paris prosecutor's office without giving further details. "A complicated investigation because we have few elements at the start"notes a source within the IGPN, for lack of a direct witness or videos of the facts at this stage.
This June evening, with three other friends, Sofiane, living in the center of Paris, took a rental car to join the 19e borough. Tells him, in front of the police, that he wanted to go see his girlfriend, near the Place des Fêtes. But it also states: "People from the 19e told us that in the 12e it was quiet, there was nothing happening, so we joined them in the 19e. » At this time, in fact, the situation is very tense in the district.
You have 64.59% of this article left to read. The following is for subscribers only.