This incredible villa, seen in Lethal Weapon 2, for sale for 16 million dollars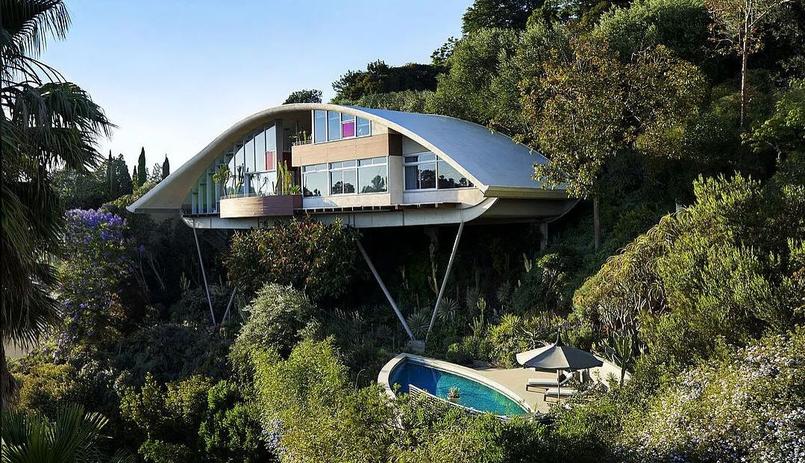 If you are ready to pay more than 60,000 euros per m² of living space, this mind-blowing villa in the heights of Los Angeles could well become yours. Icon of modernist architecture, this masterpiece designed by John Lautner sits majestically at the top of the Hollywood Hills (at 7436 Mulholland Drive, a very cinematic address like everything about this villa). Often identified as one of the most iconic properties of late 20th century Los Angeles, the Garcia House (also known as the Rainbow House) offers 240 m² and three bedrooms. It has just been put up for sale by the agency AKG / Christie's International Real Estate at a price of 16 million dollars (14.6 million euros).
This 1962 property, on two levels, was originally built for the American composer and arranger Russell Garcia before undergoing major work and modification in 2002. The villa is very identifiable between its flying saucer shape specific to the 60 and especially its cantilever and its pilings allow it to almost float in the air, 18 meters above the ground. The current owners, who had bought the house from actor and director Vincent Gallo in 2002, believe that these 20 years in this exceptional setting have changed their lives but that it is now time to move on.
A very hectic cinematic destruction
Among the notable elements of this villa, apart from its characteristic shape, there is in particular this entrance in lava stone, the original terrazzo floor and this huge glass facade offering breathtaking views of Los Angeles. The set has 900 m² of land with an elegant garden designed by landscaper John Sharp. As for the pool in the shape of an eye responding to the design of the villa, it is a 2008 addition that blends perfectly into the decor.
Without necessarily being a fan of contemporary architecture, the silhouette of this residence may tell you something. It's no coincidence: in Lethal Weapon 2, it is indeed home to a lair of bad guys and will have a very bad time under the assaults of Martin Riggs (Mel Gibson). Using his pick-up, he purely and simply pulls out one of the pilings of the house until its total destruction. (at least in the movie, see below).