This trailer is a mobile and retractable real estate agency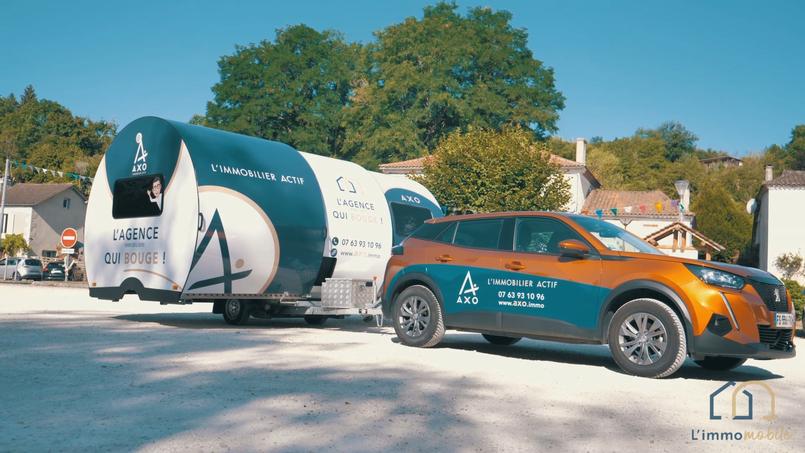 After the traditional real estate agency, fixed in a specific place, makes way for the mobile agency, Immomobile, developed by the Axo network, which goes into contact with potential buyers and sellers in the French countryside. This 12 m² and 2.40 m high agency, made up of three modular offices, offers the same services as a traditional agency. It is equipped with a meeting table, a computer for virtual visits in particular and even a kitchen area. The only difference? Everything fits in a trailer of just under a ton that can be towed by a car, which unfolds in a minute.
The objective of this new offer launched a little over a year ago? Propose another vision of real estate, which dusts off traditional agencies. No longer waiting for customers to make the effort to cross the threshold of the agency, but going where they are, as close as possible to them, "like a hand stretched out towards the daily life of our countryside"says the agency. L'Immomobile travels to markets, fairs, local events such as the start of bicycle races, and near local shops, within a radius of 30 kilometers, in Périgueux, in the Dordogne (24). The real estate network thus benefits from the flow of shopping centres.
Far from the price of a fixed agency
"We also go to DIY stores, where people go to buy products for their renovation projects, perhaps to sell their property later. Thus, they do not waste time since there is no need to make an appointment to come to Immomobile", explains Rémy Merlhiot, in charge of development of Immomobile by Axo. Other Immobiles will see the light of day in Calvados (14), Loire-Atlantique (44) and Gironde (33). There will therefore be 4. They will also offer coworking to wealth managers, brokers or bankers to offer a multiple offer. Owners can also go to open days with a tour of their property. The mobile office takes place in the enclosure of their garden, allowing potential buyers to take stock of the situation at the end of their visit.
On the price side, this vehicle still costs between 60 and 70,000 € excluding tax. In addition, the locations on the markets are chargeable but Rémy Merlhiot ensures that the cost of Immomobile is lower than that of a traditional agency: "For example, in Saint-Astier, we pay €3.50 for a stand on the Thursday market that we run from 8 a.m. to 12 p.m., which comes to just under €15 per month. A permanent pitch in this town of roughly equivalent size, i.e. around 20 m², would cost us 500 €. We are therefore far from the rent of a traditional agency", he calculates. What about soaring gas prices in all of this? The agency does not criss-cross the roads throughout the day and travels rather short distances, the impact of the rise in gasoline prices would be less according to the development manager.
A number of mandates that increases by 40%
Rémi Merlhiot recognizes that one in five customers comes out of curiosity to see the interior of the Immomobile. "We manage to reach sellers reluctant to cross the door of the agencies. They indulge more easily in this bubble. We also reach potential sellers upstream, even before they have the will to go to an agency to sell a property.", he nevertheless advances. A daring bet that seems to be paying off since the number of sales mandates (mostly exclusive) from Axo has jumped by 40%. So much so that an Immomobile employee is better paid than a traditional agent: he receives €61,000 net (€5,083 per month) against €48,000 (€4,000) for a traditional agent. Don't see this as internal competition with the other fixed Axo agencies: "They are complementary. Agencies are located inland in Loire-Atlantique and an Immomobile will crisscross the coast, for example", assures Rémy Merlhiot. So off to a flying start for this initiative.