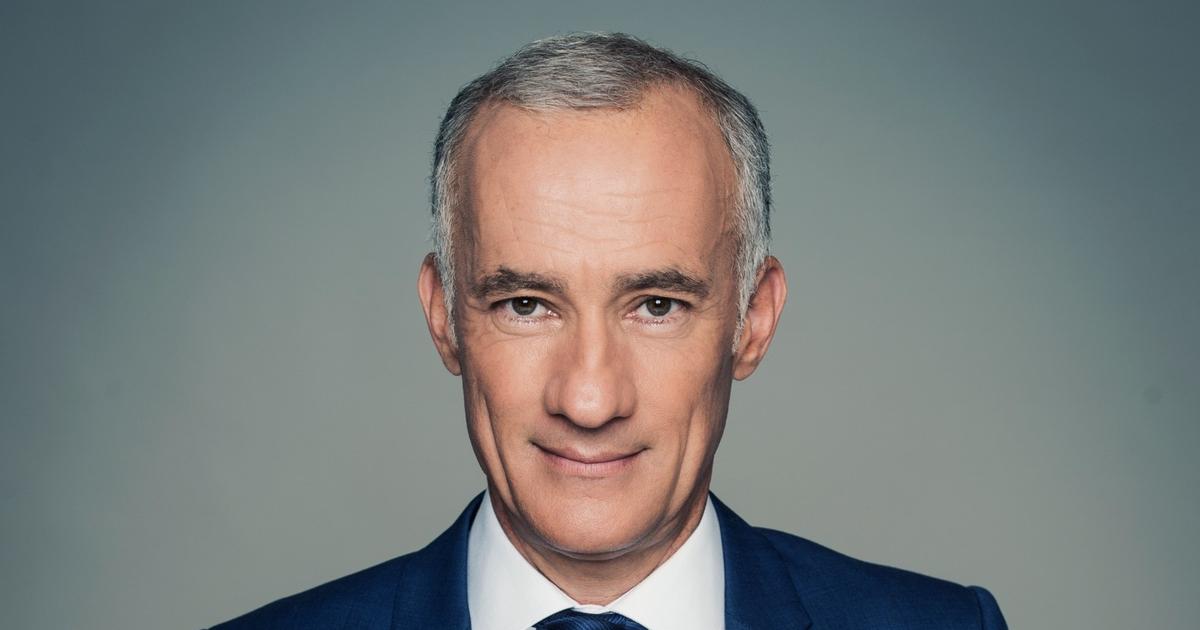 INTERVIEW - The journalist presents, with Anne-Claire Coudray, the special edition of TF1 and LCI to follow the funeral of the Queen of England scheduled for Monday, September 19 across the Channel.
LE FIGARO. - What will happen during the special edition for the funeral of Queen Elizabeth II?
Gilles Bouleau. - TF1 and LCI share the air from 6 a.m. From 8 am, with Anne-Claire Coudray, we take up the torch until a still undetermined time. Will there be delays for good or bad reasons, imponderables? We will adapt. We may have gone for 6, 7 or 8 hours live. Knowing that we will come back to it in the 8 p.m., since the burial of the queen is scheduled for 8:30 p.m. French time.
How difficult is the exercise? Recognize the multitude of guest faces?
I know a lot of them, having been a correspondent for four years. And with Anne-Claire, we are starting to get to know each other well. We've covered Harry and Meghan's wedding, Prince Philip's funeral. 17 years ago, I also followed the wedding of Charles and Camilla, the funeral of the Queen Mother… It's a family that I have been following for twenty years. There is undoubtedly a great-grand-cousin that escapes my knowledge, but I am counting on the expertise of Vincent Meylan, Isabelle Rivière and Marc Roche on set. They have an encyclopedic knowledge of the royal family.
Read alsoFuneral of Elizabeth II: where and how to follow the ceremony on television?
You were already in special edition the evening of the disappearance of the queen as well as the next morning. What happened in the editorial staff of TF1 from the first alert from the doctors around 1:30 p.m.?
I found the post alarming knowing the language and complete lack of communication from Buckingham about the Queen's health, good or bad. There was this ambiguous term that sounds a lot like an end-of-life term: "she's resting comfortably(she is resting comfortably, in French), which means that she is in no condition to be hospitalized. And when, a few moments later, we learn that all family members must immediately take a plane, a train or a car to get there, we understand that it's not a question of months, weeks, days but hours. And that perhaps she had even died at 1:30 p.m., French time of the press release. What we still do not know to this day. Historians may one day know the truth. Anyway, I got ready and dressed. The editorial staff of TF1 was ready to be on the air at any time in the afternoon. We didn't want to do it without the announcement being official.
Everything was ready for a long time?
Things are ready without really being so. You don't know at what age she will die, in what circumstances, where... What you can prepare are the obituaries, the portraits. However, when an event like this takes place, you do not distribute the beautiful archives that have been ready for a year. You rather try to understand what is happening, the reactions, where the children are, the grandchildren, what the Prime Minister is doing and so on.
"If Elizabeth II had been a man, things would have been different"

Gilles Bouleau
What image of the last ten days of mourning in Great Britain has marked you the most?
It is an image and a testimony. This very handsome gentleman, 55, veteran in Afghanistan and Mosul in Iraq, with his decorations, meditating. Benevolently, a journalist asks him why. And he says : "you see, on each of the medals on my chest, there is the profile of the sovereign, it means that I fought for what she represents". Beyond the powers she had and did not have, she accompanied the metamorphosis of her country, experiencing the British banking collapse, the evolution of means of communication, the Gulf War, the Covid... Imagine the same situation in France. It's fascinating and inexhaustible as a journalistic subject. I have a great love for Great Britain and the monarchy.
How to explain this popularity among the British and in the world?
For an evidence that no one emphasizes enough: she is a woman. You realize that she reigned over the Commonwealth as early as the 1950s with heads of state of different governments bowing to her while they themselves, in their countries, oppressed women. If she had been a man, things would have been different. It is a silent revolution, unwritten and unspoken.
His rare expression also made his presence precious. While in politics personalities intervene up to five times a week on the radio, the queen, in 70 years of reign, intervened five times apart from Christmas speeches. His word carried more weight than the communication of any president of a democratic country. And then, his family is a family like yours, like mine, with deceptions, virtuous children, others who are less so, Andrew entangled in a sex affair, his three children who divorce… We close a chapter of history, almost a century long.
Read alsoDeath of Elizabeth II: Camilla remembers a "lonely woman" in a world ruled by men
You were a London correspondent for TF1 between 2001 and 2005, covering the period of Tony Blair's second term. What memories do you have of those years?
This period covered an extraordinary event: the golden jubilee in 2002. It was wonderful, I was at the foot of Buckingham with Brian May, the guitarist of Queen, hair in the wind, playing God Save The Queen with his Gibson. The country could not believe its ears. A wonderful illustration of the regeneration of the monarchy. What situational awareness. A few months before, there was the death of Margaret and that of the Queen Mother. And in 2012, I was no longer a correspondent but I followed the opening ceremony of JO and I find the queen in a petticoat parachuting with Daniel Craig, alias 007. You have everything, the first, the second degree , self-mockery, breaking the mold of the monarchy which is the best way to make it legitimate.
Have you ever met one of the Windsors?
Before becoming a correspondent in London, I spent a day with Prince Charles in Strasbourg. You learn a thousand things about etiquette, when to talk to him or not. As for the queen, she made 300 visits a year. She worked a lot, all the time. In 2002, I followed her to the Isle of Skye in Scotland, where she had never been with her husband. I wanted to tell the French public what an official visit by the Queen to the confines of her kingdom was like. With all the protocol that implied: we never ask her questions but we answer her only if she starts a conversation, until the handbag changes hands. Every Englishman has seen the Queen twice in his life. Personally, I haven't seen all of her outfits—she had 3,000 dresses!—but I did see a few.
What should we expect now for the British crown?
Charles had time to prepare, to theorize what his reign would be like. The fundamentally different thing is that the queen ascended the throne at the age of 25 without anyone knowing anything of her intimate, political, architectural thoughts... While six months ago, Charles took part in a 35-minute program on the BBC and talked about horticulture and organic farming. We know everything about him. Will he be imprisoned in his dealings with heads of state on peace, war, same-sex marriage? I do not know. He is an intelligent and structured person. Like his mother, he will receive the Prime Minister every Tuesday and I do not imagine for a moment that in the secret of Buckingham, the king does not give his opinion. Moreover, the simple fact that he let himself be kissed in a walkabout by a woman is revolutionary. Unimaginable for the queen.
What image do you want to keep of the queen?
A wonderful photo of her where she is surprised and laughs. It was, I believe, fifteen years ago, she was reviewing the troops for the changing of the guard and Prince Philip had disguised himself in a bear hat. She recognized him and was dying of laughter. A photographer immortalized this moment, quite incredible because she was deeply human.