to surprise Brazil, Serbia hope for a great Dusan Vlahovic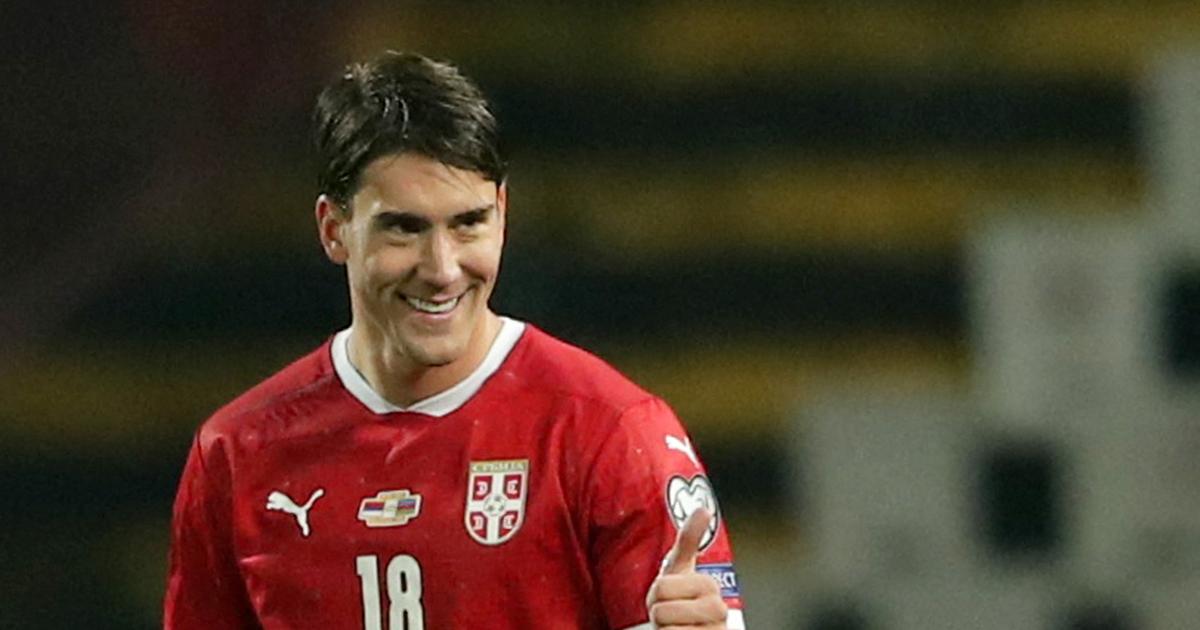 Even if he has just returned from injury, the young star striker of Juventus Turin will grit his teeth at the forefront of the "Orlovi" ("Eagles"), who start strong Thursday against the Brazilian favorites (8:00 p.m.).
"He is lucky to be born where he was born, because you can see that he has the fire in him and he is hungry". This is how Dusan Vlahovic was dubbed by his compatriot and ex-international Sinisa Mihajlovic when the latter exploded in the Fiorentina jersey in 2021, before joining Juve in early 2022. "You can see from the way he plays that he has what it takes… In Serbia you get these characteristics for free"added the ex-defender, renowned for his strong character.
Revengeful and ambitious, Vlahovic is certainly in Qatar, where he will play his first major international tournament at 22 years old. The opportunity is offered to him to confirm, on the most beautiful stage in the world, that he is indeed a future football crack. Juve paid 70 million euros for him in January, excluding bonuses (10 million) – a record for a winter transaction in Italy. Arrived at only 18 years old at Fiorentina from Partizan Belgrade, his training club, Vlahovic grew up benefiting in particular from the advice of Franck Ribéry, whom he sees as his "big brother". With his head, speed, strength or composure from the penalty spot, the 1.90m striker has refined his game season after season, sometimes reminiscent of a certain Zlatan Ibrahimovic, who also passed through Juve at the start. career and idol of Vlahovic.
A difficult start to the season
For this potential prodigy, Juve rolled out the red carpet with a contract until 2026, initially entrusting him with Cristiano Ronaldo's orphan number 7 (left in the summer of 2021) and letting Paulo Dybala go to make the Serbian the central element of the team. "DV9", his alias on Instagram, however, resumed from his favorite number 9. After a promising end to the 2021/22 season, however, Vlahovic has plateaued a bit at the start of the season, even though he has scored seven goals in all competitions (in fifteen matches).
His coach Massimiliano Allegri has regularly insisted since his arrival in Turin on the points that the young Serb still needed to improve to continue his progress. "When you play every three days, you can't last playing only on the physical for 95 minutes, you need some technical management", underlined in particular"Max", recalling that Vlahovic did not have the same rhythm before at Fiorentina, a team which did not play in Europe.
Brazilians know him well
Even if he still fights as much, never sparing himself in aerial combat and in pressing, the Serb is also disturbed by some physical glitches since the summer. He arrives in Qatar without much rhythm, having played none of Juve's last five matches, due to pubalgia. The final warm-up match, Friday against Bahrain (5-1), however, cleared up some doubts about his form: the young striker entered at the very start of the second half and found his way to the fillets six minutes later.
Serbia hope that Vlahovic but also the other striker Aleksandar Mitrovic, also recovering from an ankle injury, will already be on the attack Thursday against Brazil. Both were present at training in Qatar, Vlahovic showing a rather happy face in front of the press. In a fairly open group G, the Orlovi have the means to aim for second place behind the Brazilians, big favorites, against Cameroon and Switzerland. Serbia had been one of the surprises in qualifying by beating Cristiano Ronaldo's Portugal in their group, forced to go through a play-off. Danilo, Alex Sandro and Gleison Bremer, the three Brazilian defenders playing at Juve, must not have forgotten to warn their partners about the danger Vlahovic.
All World Cup winners since 1930