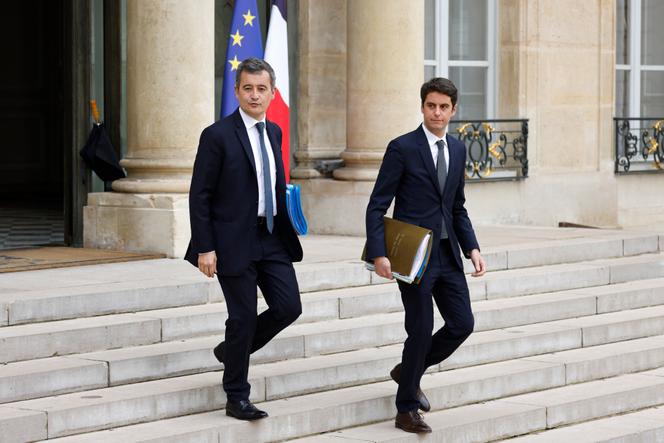 The idea of ​​a lunch had been floating around for a few weeks. It was finally Tuesday, September 12 that Gabriel Attal was invited to rue de Miromesnil, in Nicolas Sarkozy's lair. A sign that the young Minister of National Education now carries enough political weight to arouse the curiosity of the former President of the Republic, eager to distil his advice from an old beast and to sniff out new talents.
During these feasts, there was talk of the Elysian memories of the former president of the UMP, of his love for "Carla", and, of course, of the abaya that Gabriel Attal had banned in schools. "Mr. Attal is absolutely right", had approved Nicolas Sarkozy, two weeks earlier on Europe 1, happy that the Minister of Education marked the start of the school year on the theme of secularism. Almost a dubbing. One more from the man who has taken on the appearance of a godfather of politics.
In his book The Time of Fighting (Fayard, 592 pages, 28 euros)released on August 19, Mr. Sarkozy flatters another government minister: Gérald Darmanin, formerly of his party, Les Républicains (LR). "Will he be able to take another step, or even the final step, that which leads to the presidency of the Republic? I wish him so"he wrote, boasting to the Minister of the Interior "the understanding of popular aspirations and the energy without which no talent is useful".
Two strategies
The 2027 presidential election is still far away. Too far away for Gabriel Attal, 34, to dare think about it out loud. But the way the political world views the former government spokesperson, renowned for his scathing "punchlines", has changed since his arrival at Rue de Grenelle. His name has recently appeared in the polls for the supreme election where his score is close to that of Mr. Darmanin and exceeds that of the Prime Minister, Elisabeth Borne. "These polls are a joke", we understate at the Ministry of National Education. The joke, however, hardly makes you laugh inside.
For many months, a rivalry has been brewing between Gérald Darmanin and Gabriel Attal, whom only ambition and the attraction of power bring together. The first, a 40-year-old former "Sarko boy", remains faithful to his right-wing DNA, uming the status of "France's first cop", who tirelessly supports its troops when they are targeted by accusations of police violence. "We have two challenges: to recover part of the abstention and to win back voters from Marine Le Pen. Some of the police, for example," entrusted the tenant of Place Beauvau to WorldAugust 26.
You have 72.23% of this article left to read. The rest is reserved for subscribers.