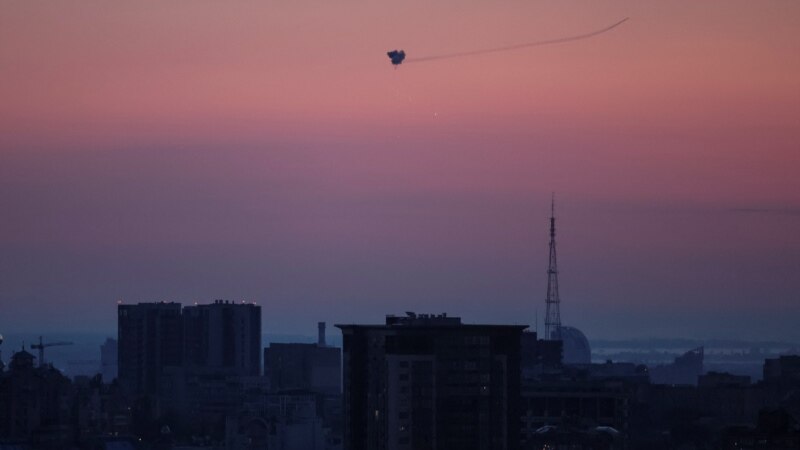 On Friday night, Russia launched a new mive attack on Ukraine with missiles and drones.
"This time, the enemy shifted the direction of the attack to the east, attacking critical infrastructure facilities and the facilities of the Defense Forces of Ukraine," – says the statement of the Air Forces of the Armed Forces of Ukraine, published by RBC Ukraine.
According to the Ukrainian military, a total of 17 rockets of different types and 31 attack drones were recorded. All 10 Kh-101/Kh-555 cruise missiles launched from the Caspian Sea area and 25 drones were shot down. At the same time, drones and several missiles hit objects in the territory of Kharkiv and Dnipropetrovsk regions.
In Kyiv, fragments of rockets fell in the Obolonsky and Shevchenkovskyi districts. The roof of the shopping and entertainment center and a private house were damaged.
The administration of the Dnipropetrovsk region claims that several businesses and residential buildings were damaged or destroyed as a result of the raid. There are no casualties. "It was a very heavy night. It was loud – the enemy mively attacked the region with missiles and drones. The Dnieper was reached. A fire broke out in a private household, which has already been extinguished. 2 houses and a car were damaged. Two private enterprises also caught fire," the head of the region wrote on the Telegram channel Sergey Lysak.
According to Lysak, the consequences of the Russian attack could have been worse if not for the work of the Ukrainian air defense. Only military personnel from the "Vostok" group of the Ukrainian army initially shot down five cruise missiles and six "Shakhedov" over the region, noted the head of the Dnipropetrovsk region.
The head of the Mykolaiv regional military administration, Vitaly Kim, reported that on the night and morning of May 26, Russian troops shelled the Ochakovskaya and Pervomayskaya communities of the region. It was destroyed and there were no victims.
The Ministry of Defense of Russia did not comment on the information. Moscow has repeatedly denied deliberate strikes on civilian targets in Ukraine.