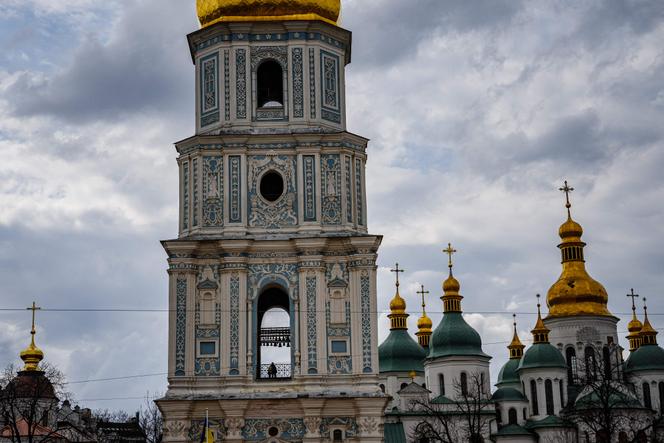 There Saint Sophia Cathedral and monastic buildings in kyivsymbols of the "new Constantinople" – the capital of the Christian principality created in the 11the century –, and the historic center of Lviv, built at the end of the Middle Ages in western Ukraine, were included on the list of World Heritage in Danger.
In a decision adopted on Friday September 15 in Riyadh, Saudi Arabia, the UNESCO World Heritage Committee considered that, due to the threats of destruction linked to the Russian offensive launched against Ukraine on February 24, 2022, "the optimal conditions are no longer met to fully guarantee the protection of the exceptional universal value of the property and that it is threatened by a potential danger due to war. »
After the inscription of the historic center of Odessa, southern Ukraineand the Kingdom of Saba in Marib, Yemen, at an extraordinary session of the World Heritage Committee in January 2023, the listing of two new Ukrainian sites confirms the growing challenge that armed conflict poses to protection and preservation sites.
"We are aware that there is an increase in emergencies in the world due to disasters caused by man, but also natural disasters"deplores Krista Pikkat, director of the culture and emergency situations entity at UNESCO, who is currently mobilized in response to the earthquake in Morocco, which destroyed heritage gems including World Heritage sites.
A solution to protect a clified site
"Unesco has started to work in a more targeted manner on emergency and preparation for such eventualities. No one is immune ", continues Krista Pikkat. Within the UN body, awareness began in 2001 with the destruction of the giant Buddhas of Bamiyan by the Taliban in central Afghanistan, then mausoleums of Timbuktu in northern Mali by the radical Islamists of the Ansar Dine group, in 2012. This led to the adoption, in 2017, by the United Nations Security Council, of a resolution for the protection of cultural heritage in time of war and armed conflicts.
Inscription on the list of World Heritage sites in danger is presented to UNESCO as a solution to protect or even save a clified site. The tombs of the kings of Buganda in Kasubi, in central Uganda, ravaged by fires in 2020, are an example. The site, rebuilt with the support of UNESCO and Japan in particular, was removed from the list of Heritage in Danger by the Committee meeting in Riyadh.
You have 51.94% of this article left to read. The rest is reserved for subscribers.