Varane OK, confidence in Dembélé, Pavard replaced… Info from the Blues on the eve of France-Denmark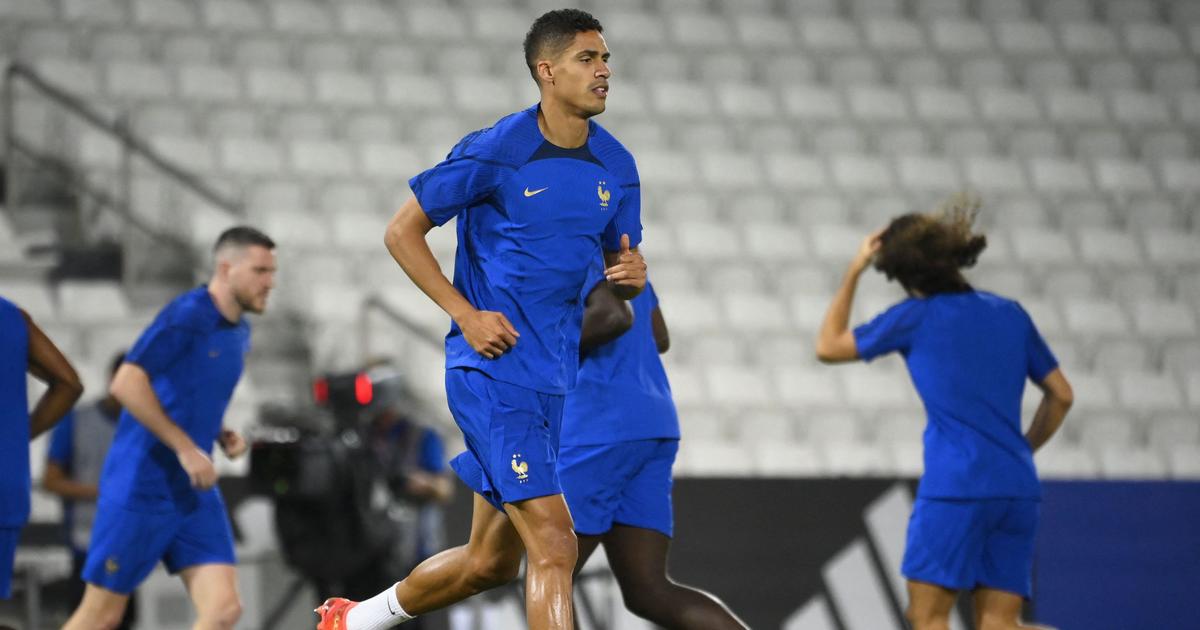 Everything suggests that Raphaël Varane will return to the starting 11 on Saturday (5 p.m.), against the Danes, for the second match of the Blues at the Qatar World Cup.
Special Envoy to Doha
Good news for the Blues. Very good. And it's not luxury after the rain of glitches that has befallen the French team in recent weeks… Didier Deschamps' plan is to start Raphaël Varane on Saturday (5 p.m.), against Denmark, during the second day of the group stage of the World Cup.
Out since October 22 and a right thigh injury with Manchester United, the 29-year-old world champion will resume his place in the central hinge barring a last-minute blow according to our information. "He could have played the first match (4-1 victory against Australia last Tuesday, editor's note) because he was fit. Afterwards, there were discussions, additional sessions, which he digested well, said the coach at a press conferencerefraining from commenting on the 11. "The most important thing is that he feels ready in his head and in his body. I will make the decision based on that.»
Read alsoThe notes of the Blues against Australia: Mbappé as boss, Giroud in history
In any case, the Blues will be delighted to find their vice-captain, that's for sure. And even if the Konaté/Upamecano hinge gave satisfaction last Tuesday. "He brings his serenity, his calm, his experience to the group. He's a quiet force, a leader, he's been around for years. He has a very important role within the Blues. When there are important matches like tomorrow (Saturday), we need all our strength. He is there, calm and ready to help the team. It's a good thing to have him with that mindset. We feel ready to fight with this team», declared Hugo Lloris.
The Blues in full training
According to our information, all the Blues also participated in the day's closed-door training session at the Al-Sadd stadium. Varane therefore, but also Kingsley Coman, who suffered from a little discomfort in recent days. Deschamps can therefore count on his 25 players against Denmark, a team that hascause a lot of miseryto his in recent months… The last two confrontations have indeed turned in favor of Christian Eriksen and company.
Read also"Denmark gave us misery": Deschamps impatient to do battle with the Blues
For the rest, we can take for granted the tenure of Ousmane Dembélé on the right side, with Kylian Mbappé and Olivier Giroud to complete the line of attack and Antoine Griezmann again in a hybrid role. Dayot Upamecano will be preferred to Ibrahima Konaté to accompany Varane in central hinge. As for Benjamin Pavard, average against Australia, he should give up his right-back spot to Barcelona's Jules Koundé. One thing is certain: a victory on Saturday and the Blues will already be qualified for the 8th. Otherwise, we would have to wait until November 30 against Tunisia.
Since 1930, all the courses of the Blues at the World Cups