Virginie Efira reveals herself in "Les Rencontres du Papotin"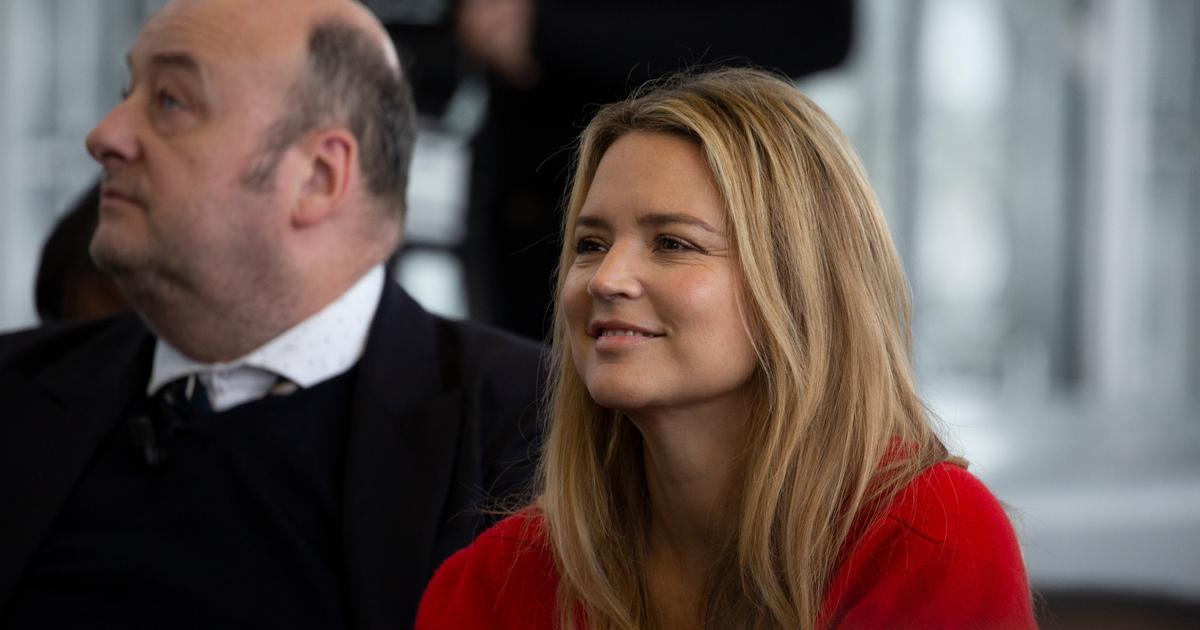 WE WATCHED FOR YOU – The actress lent herself to the game of questions, more than spontaneous, from non-professional journalists, carriers of autistic disorders, from the France 2 program.
"You can say anything to Papotin». The freshly actress caesarean faced, this Saturday March 4 directly after the 8 p.m. news broadcast on France 2to non-professional journalists of the Papotin. The show is inspired by the annual newspaper The Papotin composed of young people with autism spectrum disorder. After Gilles Lellouche and more recently, the President of the Republic Emmanuel Macron, it was Virginie Efira's turn to be transparent in this interview. Bursts of laughter and touching confessions, the emotions were there.
"How old are you ?»,"Can I put my head on your shoulder?»,«Your mum's name is Carine and your dad's name is André." "Can I call you "my little Efira"?", "Do you think you are beautiful?", "Do you mind being completely naked in the movies?"… So many unfiltered questions to which the actress answered within the confines of the Arab World Institute in Paris. Through the show, she meets, among others, a journalist and writer who has never spoken and who expresses herself through a cardboard alphabet that allows her to communicate with the actress. "Can social death be a survival solution?", asks the young woman. An exercise suspended in time for the actress.



It is better to try to forget a little about his seriousness

Virginie Efira
Virginie Efira also talks about her role as a mother after a young man asks her if that had made her more serious. "It's a bit annoying serious people, don't you think? So I don't expect too much. You become more responsible but I hope a little less serious. We have one life, it goes by pretty quickly. It is better to try to forget his seriousness a little»she says.
After birth comes the thorny subject of death and a question about the fear of dying to which she answers: "I'm not sure dying really scares me. I think life only has interest because you die. It is because we know that things will not last that they are so beautiful.
His teenage years
Following this sequence, Virginie Efira agrees to open up about his childhood. Rudy, one of the journalists, asks him the following delicate question: "When you were a teenager, did it hurt your heart when they called you '*****'?" At first surprised by the question, the 45-year-old jokes that not everyone calls her that but explains: "A teacher that I had liked to collect the laughter of people in the class by making fun of a pupil. He had seen me with a friend who was paying me some money and suddenly he started making jokes about what you just said in front of everyone. It's very stupid but I wondered about myself and I wondered why I laughed with the others when I could have said "no, it's not okay to say that"".
"Why did you enter the Miss Beauty pageant?"asks another speaker. "So that, I don't know at all. I did this, I must have been 15-16 years old, maybe because I was a bit complexed […] I'm a little ashamed to have done that. And also because there was a boy who did it that I liked"she says.
His love stories
Beyond the joke and the musical moments, the non-professional journalists of the Papotin were also there to push Virginie Efira to reveal herself as she has never done. Thus, his first marriage to the actor and director, Patrick Ridremont, was mentioned. And obviously, he was not to his father's taste. "My father raised me to be an independent woman who did not depend on men", she begins. The union was, according to her father, too early while his daughter was just 22 years old. "He told me that the bird should not be locked in the cage. He said with humor, speaking of his marriage, that it was less worse than cancer, but still.» «Love doesn't have to go with marriage", explains the companion of Niels Schneider. And when one of the journalists asks her about the reasons for her breakups, she says: "It's not because it's ephemeral that it's failed. Just because it doesn't last a lifetime doesn't mean it sucks."