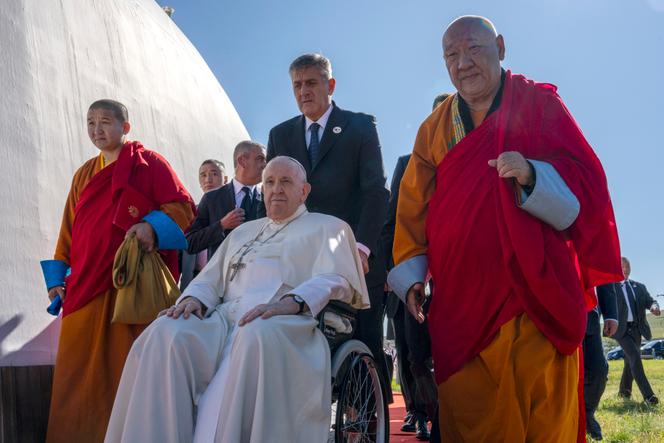 With a concentrated face, in white gloves, an elegant woman walks behind each soldier present this Saturday morning, September 2, in Sukhbaatar Square, in Ulan Bator. She pulls on the blue and red fleece ceremonial outfits, smoothes them, checks every detail of the column standing at attention in front of the Mongolian presidential palace. Everything must be perfect for the welcoming ceremony of the first pope in history to set foot in Mongolia.
Upon his arrival by car on the large square square, where a thousand faithful were waiting for him, François, 86, was greeted as it should be by a military march. In the hands of a soldier, a Süld: the symbolic banner of the guardian spirits of the Mongols, made of horsehair mounted on a spear. Then come the warriors on horseback dressed in traditional outfits, helmets and armor shining under the late Mongolian summer sun.
"The presence of the pope remains a strong marker »
Freed from the Soviet yoke in 1990, Mongolia has never ceased to try to ert its identity and independence from its big neighbours, China and Russia, by exalting the past and the figure of Genghis Khan. At the top of the steps leading to the entrance to the presidential palace, sits an enormous statue bearing the effigy of the conqueror. The Pope and President Khurelsukh Ukhnaa paid him a strong tribute. Standing with his back to the square, François looked at the monument for a long time.
For this huge, little-known country, with the lowest human density in the world, this historic visit will attract attention and strengthen its diplomatic capital. "The Mongols will not be able to influence Russian or Chinese positions, they will not be mediators, but the presence of the pope remains a strong marker", analyzes Antoine Maire, ociate researcher at the Foundation for Strategic Research. Moreover, the sovereign pontiff did not fail to praise the democratic regime of this republic and the religious tolerance that prevails there.
Relying on the image of the yurt, the head of the Catholic Church considered that this characteristic nomadic dwelling tells "the continuity of the Mongolian people [qui] has been able to preserve its roots by opening up, especially in recent decades, to the major global challenges of development and democracy". "Mongolia today, indeed, he continued, with its extensive network of diplomatic relations, its active membership in the United Nations, its commitment to human rights and peace, plays an important role in the heart of the great Asian continent and on the international scene. »
You have 55.63% of this article left to read. The following is for subscribers only.