Vivid clash between Myriam Palomba and Laurent Alexandre in "Touche pas à mon poste"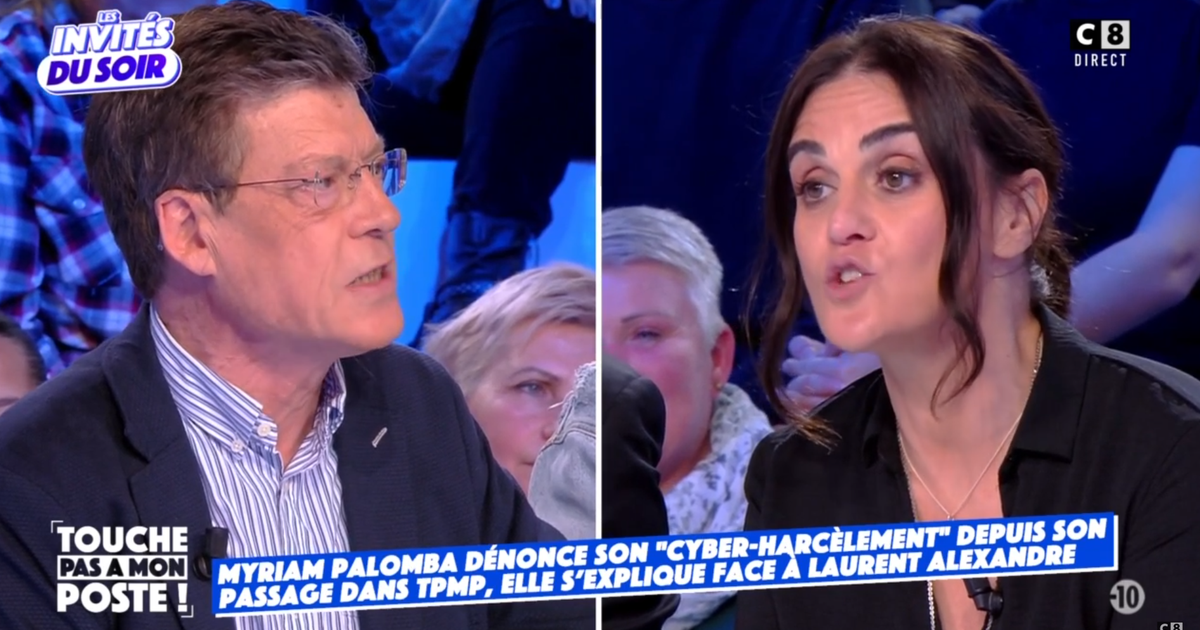 VIDEO – Following the slippage on adrenochrome last week in "TPMP", the journalist claims to be the victim of cyberbullying and has come to settle her accounts.
Last Thursday, viewers of "Touche pas à mon poste" attended a mind-blowing sequence. Gérard Fauré, who was presented as "the ex-dealer of Tout-Paris" evoked adrenochrome. According to a conspiratorial thesis from the American far right, it would be a powerful drug that would be obtained by " taking blood from kidnapped three-year-old children ". He then linked this fake news to thePierre Palmade case before accusing other celebrities like Céline Dion or the President of the Republic Emmanuel Macron of consuming it. Present on the set, the journalist Myriam Palomba had then affirmed that "this is not completely insane"Since she investigated this subject for the magazine Choc. The C8 channel, for its part, had affirmed "strongly condemn the comments made live by Gérard Fauré".
A statement that led to a wave of cyberbullying against the journalist accustomed to the set of "Touche pas à mon poste". Indeed, this weekend the hashtag #MyriamPalombapedosataniste was massively shared on social networks following the publication of a video, which claims to be a parody, according to its author Vincent Flibustier. "These are serious charges! I hallucinated. I received death threats" she testifies this Monday, March 13. She adds : "I said on the show that I did not confirm Gérard Fauré's words. I was asked to explain what adrenochrome is, so I explained because, yes, there is a topic on it".
"We are on a real delirium"
Another guest on the set of "TPMP" this evening, Laurent Alexandre. The doctor and essayist hammers it many times "Adrenochrome is a useless molecule, that making it is extremely easy and costs nothing. We are not going to torture children to make them. We are on a real delirium ". The sequence could have ended there, but it was without counting on a new speech by Myriam Palomba, directed directly against Laurent Alexandre. "Be careful, Doctor Alexandre does not hold the absolute truth. He has a habit of calling a conspirator as soon as we ask questions. she declares. By implication, his positions against the vaccine which had been strongly criticized at the time by the doctor. A discreet "it starts again" released by Bernard Montiel, summarizes the situation to come.
The tone rises, the speeches overlap. Myriam Palomba complains that since she took a stand against health measures that she considered "stupid"we halo him with the title of "conspirator". But she says: "It's not conspiracies, it's a cult that dates back millennia". As for Gérard Fauré's statements last week, she considers that "Remarks swung in this way seem far-fetched".
Read alsoSkid in "TPMP": C8 condemns the words of "the former dealer of Tout-Paris" Gérard Fauré who evokes adrenochrome
She then attacks Laurent Alexandre once again: "When you are a supporter of transhumanism, you do not come to open your mouth. You like to make your little buzz on my back, but this cyberbullying is extremely serious. Their confrontation when he is not on the set of C8 takes place on social networks since the doctor relayed the famous video of Vincent Flibutier with a comment "It's hilarious, the conspirators are going crazy".
The journalist then tells her detractor that "people like you, people like Flibustier will have to deal with my lawyers". Before Cyril Hanouna returns the antenna with difficulty, she will attack Laurent Alexandre: "Go take care of your prostates in Belgium and let the journalists, the real ones, do their job".