Vladimir Putin arrived in Sevastopol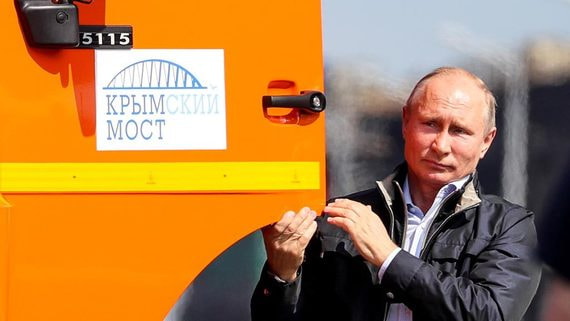 Russian President Vladimir Putin arrived in Sevastopol, according to the Vesti Telegram channel. The head of state visited the peninsula on the ninth anniversary of its annexation to Russia.
According to Vesti, Putin was introduced to the School of Arts and the Korsun children's center near Tauric Chersonese in Crimea.
The Governor of Sevastopol, Mikhail Razvozzhaev, also said that the president was supposed to open the children's art school via video link, but Putin came to the peninsula "at the wheel."
"Our President Vladimir Vladimirovich Putin knows how to surprise. In a good way. Today we were supposed to open a children's art school in Chersonese. Everything was ready for a videoconference and a report to the president via special communications. And Vladimir Vladimirovich took it and came. Myself. Behind the wheel. Because on such a historic day, the president is always with Sevastopol and the people of Sevastopol," Razvozzhaev wrote in his Telegram channel.
He said that together with Bishop Tikhon he showed the president a new children's art school and the Korsun children's center. This is the first part of a large-scale project of the Tauric Chersonese historical and archaeological park, the head of Sevastopol specified. According to him, the "unique idea" of Metropolitan Tikhon Shevkunov, which was supported by the president, is being implemented "at an incredible pace" thanks to military builders.
Earlier, the Kremlin reported that the president had planned events for March 18. At the same time, Dmitry Peskov, the press secretary of the head of state, said that Putin would take part in them via video link. According to Peskov, "a rather important object – cultural, historical" will be opened in Crimea, in connection with this event, the head of state is scheduled to have a video conference.
On March 17, on the eve of the Day of Crimea's reunification with Russia, Putin held a meeting on the socio-economic development of Crimea and Sevastopol, during which he stated that security issues on the peninsula were a priority. He stressed that Russia would continue to systematically solve the problems of accelerated socio-economic development of Crimea and Sevastopol, improve the quality of life and family incomes, as well as increase the investment, industrial and tourism potential of the peninsula.
Crimea became part of Russia in 2014 after a referendum. According to its results, 96.77% of voters in the Republic of Crimea and 95.6% in Sevastopol were in favor of joining Russia. Nevertheless, Kyiv continues to insist that Crimea is Ukrainian territory. According to Putin, the issue of Crimea is "finally closed."